McGoldrick's golf plan moves foreward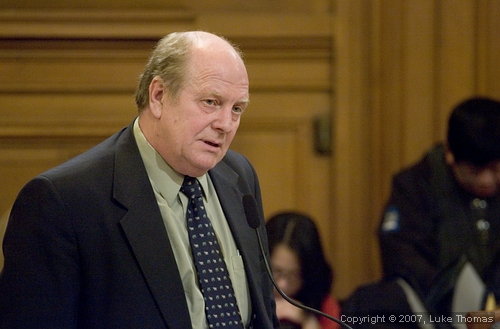 Supervisor Jake McGoldrick.
Photo(s) by Luke Thomas
By Tamara Barak

June 4, 2007
San Francisco Supervisor Jake McGoldrick's plan to avoid privatizing the city's public golf courses moved forward a step today.
McGoldrick introduced the legislation to the city's Government, Audit and Oversight Committee this morning. The committee will review the plan and, if it approves, recommend its passage to the Board of Supervisors.
Under McGoldrick's legislation, the city's Recreation and Parks Department, which runs six golf courses in San Francisco and Pacifica, would be directed to come up with a three-year plan that would reduce taxpayer contributions and get the courses out of debt.
According to McGoldrick, the city spent $18 million to upgrade Harding Park in 2002 for a professional golf tournament. City leaders hoped the exposure would lead to increased revenues, but expectations have not been met.
His legislation would raise fees at Harding Park by 15 percent and explore sponsorship opportunities to further raise funds. McGoldrick also contends that the new $6 million clubhouse at Harding has performed poorly.
His proposal includes aggressive marketing of the clubhouse by the city. The clubhouse in now privately managed, and three years remain on the company's contract.
At a news conference this morning, McGoldrick - flanked by union members who work at the city's municipal golf courses - criticized proposals to privatize or partially privatize the city's courses to solve the financial crisis.
"Next thing you know, every little playground in the city gets privatized. It's a snowball," the supervisor said.
McGoldrick pledged that he and union leaders would "dutifully defend the public property for the public good."
John Hanley, president of San Francisco Firefighters, warned against "selling San Francisco's infrastructure to private interests."
"When Rome fell, Rome fell because they neglected the infrastructure," Hanley said.
Zac Salem, who represents the Golf Committee of Laborers local 261, said privatizing the golf courses would be a setback for ordinary citizens.
"It's land that belongs to the people of San Francisco. Does San Francisco really want a system of private parks for privileged people?," he said.
Copyright © 2007 by Bay City News, Inc. -- Republication, Rebroadcast or any other Reuse without the express written consent of Bay City News, Inc. is prohibited.
####