Schwarzenegger says administration
will focus on education next year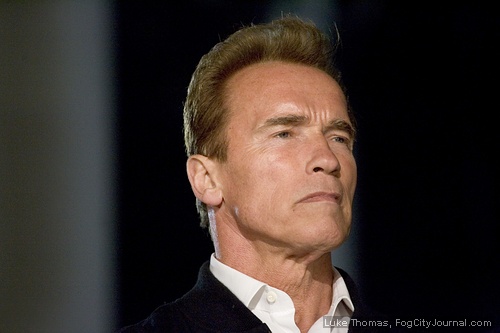 Gov. Arnold Schwarzenegger
Photo(s) by Luke Thomas
By Julia Cheever

June 6, 2007
Gov. Arnold Schwarzenegger told a business audience in San Francisco yesterday that his administration will focus on education reform next year, to fix what he called a "broken" system.
Schwarzenegger said, "Next year will be the year of education reform."
He said, "The education system itself is actually broken" and said it needs systemic revamping.
"I don't believe in the band-aid approach. I think you should attend to the whole problem," the governor said.
He said he supports improvement of technical education and allowing parents to choose their children's schools, including even schools outside their district, among other changes.
Schwarzenegger spoke on "A Vision for California" before about 350 business representatives at a program sponsored by the San Francisco Chamber of Commerce and Pacific Gas and Electric Co. The meeting took place in a PG&E auditorium.
He said better technical or vocational education would address the state's need for skilled labor. Technical training doesn't necessarily require going to college and could take place in high school or community college as well as college, he said.
"You don't need to go to college to be an auto mechanic or a computer technician," the governor said.
Schwarzenegger said allowing parents to select their children's schools, inside or outside their district, would improve schools by fostering competition.
"We must make schools more competitive so you can choose between one and another. It's the same thing as going shopping for a car. Parents should be able to change districts and schools," he said.
The governor also touched on his proposals for health care reform, prison reform and addressing global warming during the half-hour speech and told the audience, "California is back on track."
In answer to an audience question about immigration, Schwarzenegger said, "President Bush is very courageous" in advocating an immigration reform plan.
The governor said, "I strongly believe we must secure our borders, we must build the fence, we must have the best-trained border patrol there."
But he also said there should be ways for California to have guest workers in agriculture and construction and to allow foreign students who attend California universities to stay in the state to work.
"That would solve problems in Silicon Valley," he said.
Copyright © 2007 by Bay City News, Inc. -- Republication, Rebroadcast or any other Reuse without the express written consent of Bay City News, Inc. is prohibited.
####