Schwarzenegger says action more important
than words in health care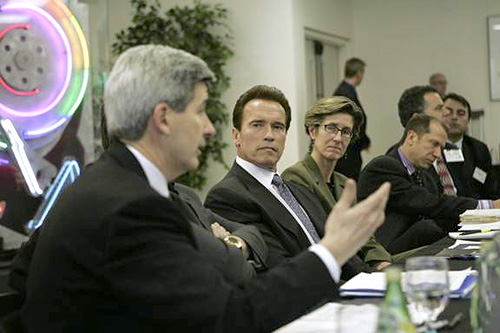 Governor Arnold Schwarzenegger; Kim Belshé, Secretary for the California Health
and Human Services Agency and Herb Schultz, Senior Health Policy Advisor, Office of Governor Arnold Schwarzenegger.
Photo courtesy Office of Governor Arnold Schwarzenegger
By Jeff Shuttleworth, Bay City News Service

January 23, 2007
FREMONT (BCN) - Gov. Arnold Schwarzenegger said Monday that taking action is more important than semantics in the debate over whether the funding for his health care reform proposal comes from new fees or new taxes.
Speaking to reporters and more than 20 Silicon Valley business leaders at a conference room at a Seagate Technology office in Fremont, Schwarzenegger said, "We want success in addressing health care issues and we will solve them by moving forward."
Schwarzenegger said he wants to make sure that everyone in California is insured and that a plan is approved this year.
Critics say the costs associated with the governor's plan are really new taxes.
But Schwarzenegger insists that the costs are fees, according to a spokeswoman for the governor.
The distinction is crucial because new taxes require approval by a two-thirds majority in the state Legislature but a fee can be passed by a simple majority vote.
Schwarzenegger told the business leaders that California's health care plan is "broken" and he believes his plan would make the state's businesses more competitive.
Schwarzenegger's plan would call for requiring businesses with 10 or more employees to either offer insurance or pay 4 percent of their payroll into a fund for the uninsured.
It also would add new fees on doctors and hospitals to help pay for the state's estimated 6.5 million uninsured.
In addition, individuals would pay into the system on a sliding scale based on their income, according to the governor's office.
Schwarzenegger said, "We want to spread the costs among everyone."
Copyright © 2007 by Bay City News, Inc. -- Republication, Rebroadcast or any other Reuse without the express written consent of Bay City News, Inc. is prohibited.

####