Schwarzenegger seeks to overhaul
California prison system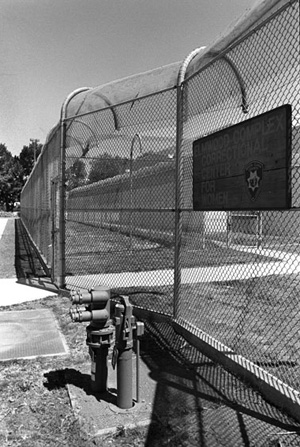 Photo(s) by Luke Thomas
By Brent Begin, Bay City News Service

December 27, 2006
Gov. Arnold Schwarzenegger unveiled a plan yesterday that would add thousands more beds to the state's prison system as well as local jails and juvenile detention facilities.
The nearly $11 billion plan would address what Schwarzenegger calls a "dangerous prison overcrowding crisis" and would be funded mostly through bonds and partly through the state's general fund.
His plan would call on the legislature to approve an expansion throughout the state to accommodate nearly 78,000 prisoners.
The governor's proposal also calls for the creation of a sentencing commission and implementation of the controversial Jessica's Law, a sexual offender tracking system approved by voters in November.
"Public safety is my highest priority and my administration will continue to address California's prison crisis while ensuring that dangerous criminals do not pose a threat to our families or communities," Schwarzenegger said in a statement.
"After decades of neglect as our state's population has dramatically expanded, our prison system desperately needs to be overhauled."
The plan calls for additional housing for inmates at the state and local level. Specifically, the governor is calling for half of the funds to go towards providing 45,000 new beds for local jails and 5,000 beds to be provided for juvenile offenders.
A majority of the remaining funds would go to building enough space in existing prisons to accommodate over 16,000 inmates. The funding would also go towards modernizing San Quentin's "death row" and building a new training facility for prison guards.
The governor also plans to update the prison's health facilities with a $1 billion improvement project.
Millions of dollars would also be poured into the state's new "sexual predator" tracking system. The money would go towards evaluating repeat and high-risk sex offenders and providing the global positioning equipment necessary for tracking them.
Schwarzenegger also proposed a sentencing commission, which would propose changes to the state's sentencing guidelines and parole system to, in theory, prevent violent and repeat criminals from being released without oversight while nonviolent offenders serve unfair sentences.
According to Schwarzenegger, providing more space for inmates would allow prisons to use classrooms, gyms and workshops for what they were meant for instead of makeshift dormitories.
"I am looking forward to working with my partners in the legislature, crime victims, law enforcement groups and correctional officers to bring lasting change to California's prison system," Schwarzenegger said.
Copyright © 2006 by Bay City News, Inc. -- Republication, Rebroadcast or any other Reuse without the express written consent of Bay City News, Inc. is prohibited.

####