Schwarzenegger tours fire swept Griffith Park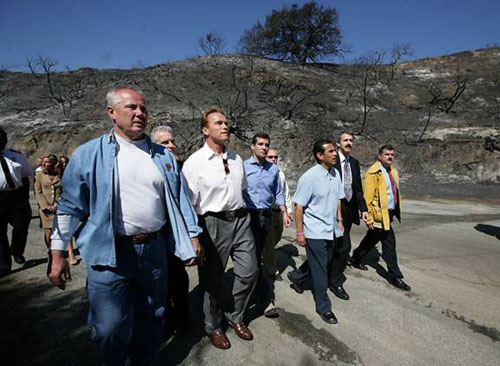 L.A. City Councilman Tom LaBonge, Governor Arnold Schwarzenegger
and Los Angeles Mayor Antonio Villaraigosa view a map of the devastated areas.
Photo(s) by Duncan McIntosh, Office of Governor Schwarzenegger
By Dana Bartholomew, LA Daily News


May 11, 2007
As Catalina Island burned Friday morning, Gov. Arnold Schwarzenegger joined Los Angeles city officials for an acrid tour of the ashes in Griffith Park before meeting with reporters.
Heading south from a blackened Mt. Hollywood, the governor and his entourage drove a mile east of the famous Greek Theater.
They drove past Aberdeen Canyon, where some say the fire was ignited by a burning cigarette.
Past barren hills denuded of everything but ash and the scrawny skeletons of live oak trees. Past catch basins filled with soot.
Schwarzenegger, accompanied by Los Angeles Mayor Antonio Villaraigosa and Councilman Tom LaBonge, emerged from his van on the south slope of Griffith Park, directly above a historic nursery saved by firefighters.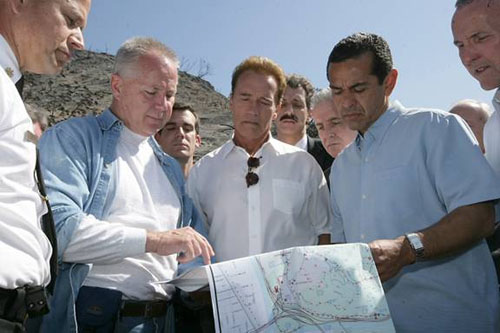 He trudged slowly, thoughtfully, silently, inhaling the pungent remains of what had once been lush ceonothus, toyon and sage.
For nearly 100 feet, he walked, looking at scorched earth and listening to LaBonge's much repeated description of how "the fire danced like Mick Jagger on stage - boom, boom, boom!"
How fire roared Tuesday toward Loz Feliz, threatening such mansions as the Lautner home once featured in "L.A. Confidential."
How the fire had turned around and raced up Mt. Hollywood, torching Dante's View and its tree-lined garden.
And how water-dropping helicopters had worked through the night to save the day.
The governor then praised the work of firefighters who had coordinated their efforts to save some of the city's most famous landmarks, including the Griffith Observatory and the L.A. Zoo.
"This is amazing," Schwarzenneger said, looking toward downtown L.A. in the distance. "It (the fire) actually stopped there. This is the work of the firefighters. If you think about it, we had this really incredible fire ... and it didn't take everything out.
Then he pointed to a partially burned oak and added: "This is obviously the tree that stopped it all."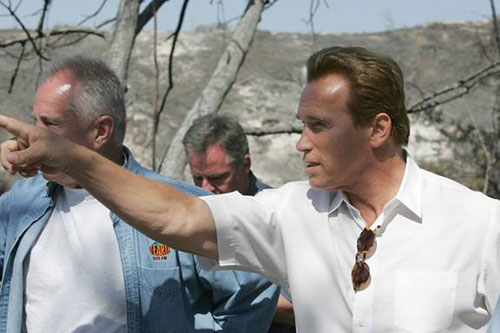 ####