Police take guns off streets in buyback program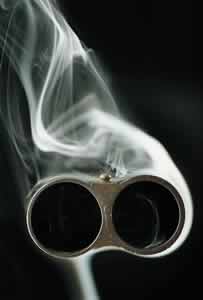 Photo courtesy Duke University
By Caitlin Cassady, Bay City News Service

April 7, 2007
HAYWARD (BCN) - The Hayward Police Department collected between 85 and 100 guns today during their annual gun buyback.
Officers received pistols, revolvers, assault weapons, sawed-off shotguns and rifles, said Hayward Police Lt. Bob Weldon. The Police Department accepts the weapons anonymously and all weapons surrendered are destroyed.
Citizens who attend the event are given $50 for each operable weapon that they turn in, according to Weldon. All operable firearms are accepted, however, pellet guns and BB guns are not considered a firearm and citizens were not given money for these guns, Weldon said.
"This is a great opportunity for the public to get rid of any firearm they may have and no longer want. It is a chance to increase the safety of every family and the community,'' Hayward Police Chief Lloyd Lowe said in a prepared statement.
The gun buyback is funded entirely through donations from various community members and organizations, according to police. No city funds are used for the event. Major sponsors of this year's event included Neighborhood Spirit, the Hayward Police Officers' Association, Hayward Firefighters Local 1909, R. Zaballos and Sons, Inc., San Communications, Rental Housing Owners Association, Birchfield Property Management, Housing with Heart, Eden Realty, Jamboree Housing Corp., Salwan Property and Adamson Police Products.
The buyback took place in the Costco Business Center Parking lot, located at the intersection of West A Street and Hathaway Avenue from 10 a.m. to 3 p.m. The Hayward police hold their annual gun buyback on the first Saturday of April.
Copyright © 2007 by Bay City News, Inc. -- Republication, Rebroadcast or any other Reuse without the express written consent of Bay City News, Inc. is prohibited.
####