Supervisors approve funding
for Haight Ashbury Food Program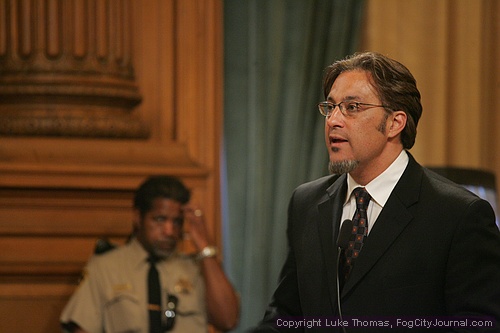 District 5 Supervisor Ross Mirkarimi has spearheaded a drive to provide funding
for the Haight Ashbury Food Program.
Photo(s) by Luke Thomas
By Laura Dudnick
August 3, 2007
San Francisco's board of supervisors has awarded $120,000 in city funding to an employment skills program for homeless, unemployed or disadvantaged residents, according to a statement released yesterday by Haight Ashbury Food Program.
For the second year in a row, District 5 Supervisor Ross Mirkarimi has spearheaded the drive to provide funding for the Haight Ashbury, according to organizers.
The program will use the funding to provide 32 individuals with the skills needed to secure and maintain permanent jobs in San Francisco's food service industry, according to program organizers.
In addition the operating costs of the program, the funding will also sustain the chef instructor and job developer positions.
"Developing the skills necessary to secure and retain employment is a critical step in the road to self-sufficiency,'' executive director of the Haight Ashbury Food Program Michael Scribner said.
"Supervisor Mirkarimi's generous and steadfast support of our program has made an enormous difference in giving homeless, unemployed and other disadvantaged residents of District 5 the opportunity to build a better life for themselves and their families while at the same time providing nutritious meals to others in our community who are hungry,'' Scribner said.
Financial support from the city came at a crucial time for the Haight Ashbury Food Program, following the program's loss of federal funding from the Workforce Investment Act and Welfare to Work, according to program organizers.
Meals prepared by the program's students using donated food from Starbucks Co., Albertson's LLC, Safeway Inc. and the San Francisco Food Bank are served to homeless or hungry residents of San Francisco's District 5.
"This is a model program proven effective in empowering communities,'' Supervisor Mirkarimi said. "It deserves national recognition.
I am pleased that my colleagues approved funding to continue this program, and I look forward to working with Haight Ashbury Food Program to replicate it elsewhere in San Francisco.''
Copyright © 2007 by Bay City News, Inc. -- Republication, Rebroadcast or any other Reuse without the express written consent of Bay City News, Inc. is prohibited.
####