San Francisco officials announce curtailment
of Halloween festivities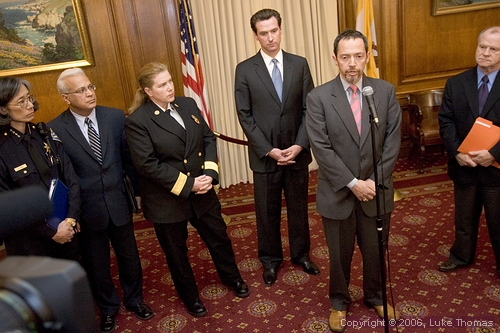 City leaders convened a news conference yesterday at City Hall
to announce steps to ensure a safe Halloween.
Photo(s) by Luke Thomas
By Lara Moscrip, Bay City News Service
October 31, 2006
SAN FRANCISCO (BCN) - Apache helicopters won't be swirling overhead and San Francisco police won't be checking the IDs of partygoers, but the message this year for Halloween festivities in the Castro is smaller, earlier and less alcoholic, according to city leaders.
Mayor Gavin Newsom announced yesterday that troublemakers who plan to join in with the 250,000 revelers expected to cram a few city blocks in the Castro do so at "their own peril."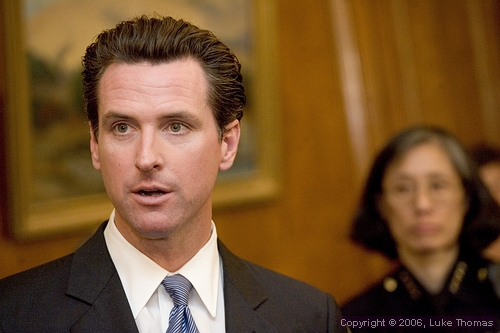 Mayor Gavin Newsom
San Francisco sheriff's deputies will be checking for containers of alcohol and weapons at various checkpoints around the nine pedestrian gates into the street party.
Newsom announced at the news conference in City Hall that there will be 25 percent more police ready to enforce a "zero tolerance" policy toward any illegal activities.
And any partygoers or residents on the wrong side of city traffic laws will most likely make a mandatory contribution to the city's general fund in the form of a parking ticket or a tow, according to Supervisor Bevan Dufty, who represents the Castro District.
Newsom cited the 2002 stabbings of five people and the difficulties emergency responders had in getting to victims of violence as reasons for caution for Tuesday's party.
"I don't want anyone to think that San Francisco's entertainment days are behind us," Newsom said. "But you don't walk in (to the crowd) with a working chainsaw. It's our job to take it seriously."
The subject of a curfew surfaced during the news conference, with Newsom encouraging partygoers not to linger until the early morning hours.
"It'll be obvious as to when people should leave. The Department of Public Works will be out there scrubbing the sidewalks," Newsom said.
Supervisor Bevan Dufty accepted that the decision to cut the number of performance stages from three to one and to start fading the festivities after 11 p.m. might rile some constituents.
"I've been here for four years and I'm willing to take a little heat," he said.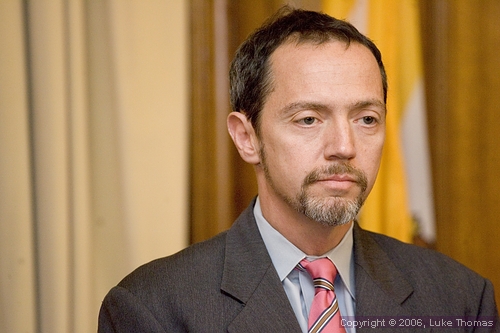 Supervisor Bevan Dufty
Dufty encourages would-be partygoers to "make a plan come early, the streets are closed off after 6 p.m., spend a couple hours, then figure out a club or another venue to go to."
According to the Web site http://halloweeninthecastro.com, the San Francisco Municipal Railway will run on a normal schedule until 9:30 p.m.
After that time, the MUNI metro service will switch to a construction schedule with trains arriving less frequently. The MUNI station at the intersection of Castro and Market streets will remain open Halloween night.
Additional buses will run between downtown (Spear Street) and Church at Market streets from 6 p.m. on, stopping aboveground at all MUNI Metro stops.
Between 6 and 10 p.m., buses will only carry passengers from downtown to Church at Market streets. After 10 p.m., buses will only carry passengers away from Church at Market streets in the direction of downtown.
According to the Web site, passengers are asked to use the buses departing from Church at Market streets to leave the event, as the buses will come more frequently than the MUNI Metro trains.
Copyright © 2006 by Bay City News, Inc. -- Republication, Rebroadcast or any other Reuse without the express written consent of Bay City News, Inc. is prohibited.

####