Alleged Newsom stalker held
to answer on assault charges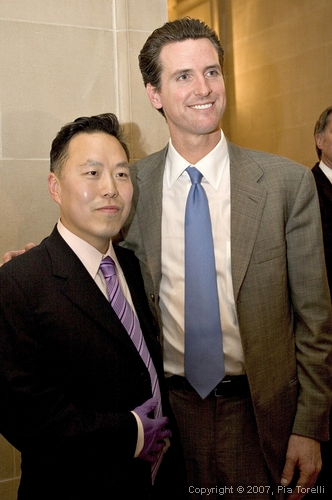 Han Shin with Mayor Gavin Newsom, 2/12/7
Photo by Pia Torelli, special to Fog City Journal
By Caitilin McAdoo
August 2, 2007
A Union City man accused of stalking San Francisco Mayor Gavin Newsom was held to answer in Contra Costa County Superior Court today for allegedly trying to run over a San Ramon man three times in February.
Han Shin, 42, is also accused of felony vandalism, but a Superior Court judge dismissed a charge of first-degree residential burglary against Shin during a preliminary hearing in Martinez.
The charges stem from a Feb. 28 incident in which Shin allegedly went over to a house in the 2100 block of Longleaf Circle in San Ramon to talk to a friend about a loan. The friend, James Adkins, allegedly borrowed $15,000 from Shin and was supposed to make weekly payments, but had not been doing so, Shin's attorney Francisco Karwash said.
Adkins wasn't home when Shin arrived at about 8:20 a.m., but his roommate and cousin Richard Lao was home and answered the door, Lao testified.
Lao said he told Shin that Adkins was not home.
"He said in a low whispering voice, 'Richard, are you telling the truth?'" Lao said.
Then Shin allegedly kicked open the door and began chasing Lao through the house as Lao tried to call 911 on his cell phone, Lao said.
Lao then escaped outside. Shin came out about 10 minutes later carrying a gold-colored piggy bank belonging to Lao and a framed photo of Adkins posing with Newsom, Lao said.
Lao tried to wrestle the items from Shin, but Shin held them too tightly. A few seconds later, though, Shin threw the items on the front lawn and began chasing Lao again, Lao said.
After he failed to catch Lao, Shin allegedly went back, put the piggy bank and photo in his car, and backed out of the driveway, at which point Lao walked toward Shin trying to take down his license plate number, Lao said.
When Shin saw Lao, he allegedly put the car in drive and accelerated toward Lao, driving up onto the lawn, Lao alleged.
"He's really crazy driving so fast," Lao said.
Lao said the car came within inches of striking him, but he was able to jump clear into an area by the garage where the car wouldn't fit.
Shin allegedly reversed back to the street, but when Lao came out onto the lawn again, Shin allegedly drove at him a second time, again almost striking him, Lao said.
After the third alleged attempt to run Lao over, Shin allegedly got out of the car and chased Lao on foot again, at which point Lao ran inside and locked the door.
"I was really frightened for my life because he tried to overrun me three if not four times. If not for this structure (the garage) I think I'm dead," Lao said.
Shin then allegedly grabbed a large clay pot and threw it at the front door. The glass door shattered.
On cross-examination, Lao couldn't explain why he hadn't been able to call 911 during the incident. He said he speed dialed Adkins and told him that Shin was in the house, but admitted that he didn't ask Adkins to call the police either.
Lao also said he didn't know about the money Shin had allegedly loaned Adkins, although in his statement to police, he said that he and Adkins shared a bank account, according to Karwash.
Contra Costa County Sheriff's Deputy Allan Shields testified that he found Shin hiding in a closet at his parents' house in Union City. Shin allegedly punched the deputy in the face when the deputy grabbed him, Shields said.
When officers served a search warrant on Shin's house the following day, they found the piggy bank along with a number of collages made up of images of Newsom. They also found photos of Newsom, letters Shin had written to Newsom, a briefcase containing news articles written about Newsom and a folder containing "writings relating to 'Gavin Newsom for President'," Shields said.
Newsom has a three-year-restraining order against Shin, who has also been accused of snapping photos of Newsom from the waist down during a public meeting and of sneaking into Newsom's Russian Hill apartment building.
According to Deputy District Attorney Melissa Smith, at the time of his arrest, Shin's mother also had a restraining order against him because he had allegedly threatened to kill her. He had also allegedly held his father hostage in his home, Smith said.
Shin was in violation of that restraining order when he was arrested in his parents' house, Smith said.
Shin remains in custody in Martinez. His bail has been set at $1 million.
Copyright © 2007 by Bay City News, Inc. -- Republication, Rebroadcast or any other Reuse without the express written consent of Bay City News, Inc. is prohibited.
####