Hastings Law School Dean grateful blog threat reported
School evacuated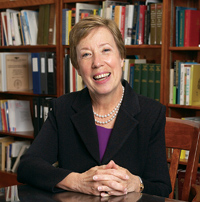 Chancellor and Dean of Hastings Law School
Nell Jessup Newton
Photo courtesy Hastings Law School
By Tamara Barak, Brigid Gaffikin and Brent Begin, Bay City News Service

April 19, 2007
SAN FRANCISCO (BCN) - The head of University of California, Hastings College of the Law said she's grateful that a person who saw threats posted against the law school on an online bulletin board thought to notify the school, resulting in an evacuation of the campus yesteday afternoon.
"This is the sort of thing, before Virginia Tech, that we would have very likely concluded was a joke. There's a good chance it was a joke," said Nell Jessup Newton, chancellor and dean of the law school.
However, San Francisco police and the FBI responded to the law school at 200 McAllister St. this afternoon after a learning of a blog post claiming there would be a shooting on the campus, San Francisco police Sgt. Neville Gittens said.
The Police Department received a call from the university about the Internet posting at 12:15 p.m., Gittens said. School officials learned of the blog threat around 2 p.m. and started efforts to close the building starting around 3 p.m., Newton said.
Officers went out to the campus to investigate and to make a police report, Gittens said.
Peter Keane, former dean of the Golden Gate University School of Law, is a visiting professor at Hastings. He was preparing to teach his 3:30 p.m. class when the school's assistant dean asked him to evacuate, he said.
"She said they had gotten disturbing information and the FBI recommended clearing the building," Keane said.
Keane and about a dozen of his students relocated to a nearby coffee shop, where a student was able to use his laptop computer to locate the threatening blog on the Web.
In "dark and disturbing" language, the blogger said something to the effect of "Hastings better watch out today and tomorrow," Keane said.
Keane said the blogger's identity didn't seem to be hidden, but he wasn't sure whether it was a student who had made the postings.
Keane said being evacuated seemed like a reasonable response, especially after Monday's mass shooting at Virginia Tech.
"I think it's a reflection of a concern that's necessary after what happened in Virginia," he said.
On Thursday, the law school will have extended security, and the school has closed one entrance to the building, leaving only one door accessible. All students will have to show identification upon entering, Newton said.
Copyright © 2007 by Bay City News, Inc. -- Republication, Rebroadcast or any other Reuse without the express written consent of Bay City News, Inc. is prohibited.
####