Supervisors poised to affirm Golden Gate Park
Saturday auto ban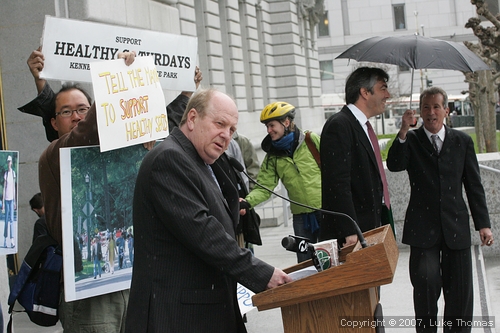 Supervisor Jake McGoldrick brokered a compromise with Mayor Gavin Newsom to reach a deal over closure of Golden Gate Park to auto traffic on Saturdays.
Photo(s) by Luke Thomas
By Tamara Barak

April 23, 2007
The San Francisco Board of Supervisors is poised to adopt at its meeting on Tuesday a plan to close a section on Golden Gate Park to vehicle traffic on Saturdays.
The Healthy Saturdays legislation was passed 9-2 on its first reading at the April 17 Board of Supervisors meeting. Supervisors Michaela Alioto-Pier and Ed Jew were the dissenting votes, according to Cassandra Costello, legislative aide for Supervisor Jack McGoldrick, the ordinance's author.
The legislation represents a compromise between the two sides in the contentious debate to close the park to cars, and seals off for pedestrians and cyclists about half of the area they originally requested, Costello said.
The compromise was brokered earlier this month by Mayor Gavin Newsom's office.
The Saturday road closure will include John F. Kennedy Drive between Hagiwara Tea Garden Drive and Transverse Drive, as well as Stow Lake Drive between Stow Lake Drive East and John F. Kennedy Drive.
The Board of Supervisors will vote on Tuesday to close that section of the park from May 26 to Sept. 29 of this year. Legislation that closes the stretch on Saturdays from April to September for five years is being studied by the city's planning commission and is expected to go before supervisors in about a month.
McGoldrick said the ordinance will make the city a more livable place.
"I'm so happy we came up with a compromise. We're able to look around and make more recreation space available for people. Seniors, kids, disabled folks - they'll all be able to get something out of it," he said.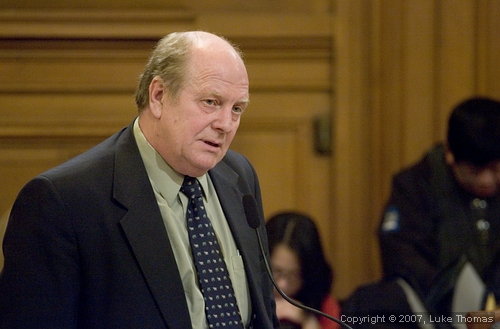 Copyright © 2007 by Bay City News, Inc. -- Republication, Rebroadcast or any other Reuse without the express written consent of Bay City News, Inc. is prohibited.
####