City celebrates Golden Gate Park "Healthy Saturdays"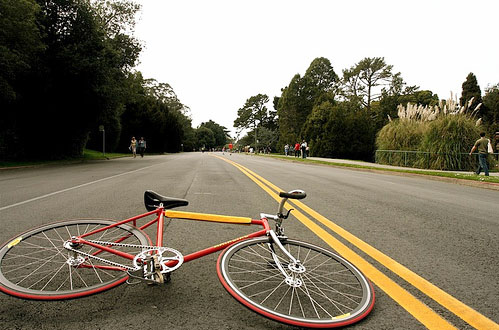 Photo courtesy geekylucas
By Karli Bulnes

May 26, 2007
The closure to vehicles of a little bit of road in Golden Gate Park means a whole lot to the pedestrians, bicyclists and skaters who are enjoying the car-free road today as the city celebrates the first Saturday of "Healthy Saturdays."
The San Francisco Recreation and Park Department already enforces the Sunday and holiday closure of certain roads in Golden Gate Park, and starting today, the department will implement partial Saturday road closures as well.
"The closures are designed to enhance pedestrian and bicycle safety and address accessibility issues in and around the 1,017-acre park,'' a recreation and park department spokesperson said Friday in a written statement.
A compromise reached in April closes about three-fourths of a mile of pavement along John F. Kennedy Drive to vehicles each Saturday of the summer months, Cassandra Costello, legislative assistant to San Francisco Supervisor Jake McGoldrick, said Friday in a written statement. The Saturday closures will last from 6 a.m. to 6 p.m. on those days, David Miles Jr., founder of The Skaters Alliance, reported.
Miles welcomed the new closure schedule today along with other park visitors.
"It means we have double the amount of time to skate and have a good time,'' Miles said. "It gives (us) a chance to enjoy this car-free place. When you remove the cars, it's a totally different situation.''
The closure to vehicles on John F. Kennedy Drive will extend between Tea Garden and Transverse drives, Costello reported.
Copyright © 2007 by Bay City News, Inc. -- Republication, Rebroadcast or any other Reuse without the express written consent of Bay City News, Inc. is prohibited.
####