San Francisco Sheriff Hennessey comments on Castro Halloween shootings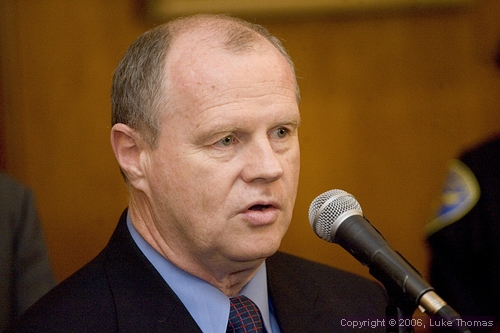 Sheriff Michael Hennessey.
Photo(s) by Luke Thomas
By Brent Begin, Bay City News Service
November 1, 2006
SAN FRANCISCO (BCN) - After added planning and scaled-back festivities, San Francisco city officials are still trying to make sense of what happened on another violent Halloween night in the Castro neighborhood.
According to San Francisco police, 10 people were shot near 16th and Market streets around 10:45 p.m. after two groups of about 15 juveniles opened fire on each other.
The victims all survived with non-life-threatening injuries.
"There's going to be a lot of soul-searching about what we're going to do next year,'' said San Francisco Sheriff Michael Hennessey, who was at the event supervising the nine checkpoints where sheriff's deputies checked for alcohol and weapons.
According to Hennessey, one of the few problems with the night's festivities was a series of "pinch points'' and "bottlenecks'' where the tens of thousands of revelers bunched into tight crowds.
In total, the Sheriff's Department made 25 arrests, mostly of men and mostly for public drunkenness. This year marked the first time city officials planned to stop the event around 11 p.m. by calling in street sweepers and cleaning crews.
"Once the shooting happened, it was pretty clear that the night was over,'' Hennessey said. "We kept things calm by opening the gates and telling people to leave, urging people to leave.''
While police have yet to issue a statement on whether gangs were involved in the shooting, Hennessey expressed concern that gang tensions could manifest themselves in the jails.
"We're highly on edge,'' he said.
This year's shooting is not the first time violence has broken out at the annual Halloween party. The city took over the event after five people were stabbed during the 2002 celebration.
Copyright © 2006 by Bay City News, Inc. -- Republication, Rebroadcast or any other Reuse without the express written consent of Bay City News, Inc. is prohibited.

####