Hill convicted of 2nd degree murder
with special circumstances
Life without parole sentence sought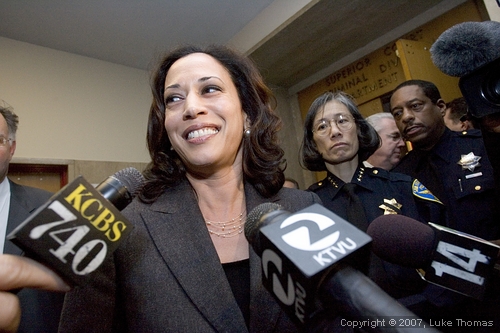 District Attorney Kamala Harris celebrates a jury verdict in the murder trial of David Hill who was convicted today of 2nd degree murder with special circumstances, for the killing of SFPD Officer Isaac Espinoza. The special circumstances enhancement carries with it a sentencing provision of life without the possibility of parole.
Photo(s) by Luke Thomas
By Brent Begin, Bay City News Service

January 4, 2007
SAN FRANCISCO (BCN) - After the initial shock of a lesser conviction for the murder of Isaac Espinoza came down today from a jury, many were relieved to learn that special circumstances could result in life in prison without parole for David Hill, according to the San Francisco district attorney's office.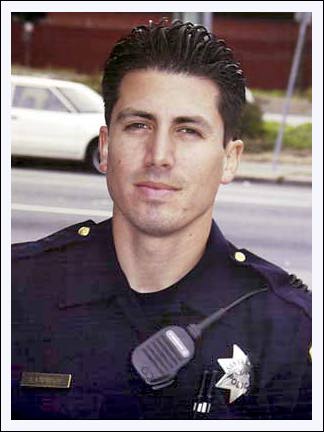 SFPD Officer Isaac Espinoza was killed in the line of duty
when he was shot and killed by David Hill on April 10, 2004.
Photo courtesy SFPD
A Superior Court jury of seven women and five men convicted Hill, 23, of second-degree murder with the special circumstances that he knew he was shooting at a police officer on the evening of April 10, 2004.
The courtroom, filled beyond capacity with police officers and Espinoza's family members, expressed disappointment as the court clerk read a not guilty verdict for first-degree murder.
But news from the district attorney's office that Hill could spend life in prison because he knew he was killing a police officer sent waves of relief through the crowd.
Assistant District Attorney Harry Dorfman said that the key evidence in the six-week long trial was the testimony of Espinoza's partner, Officer Barry Parker.
"He was the victim of an attempted murder," Dorfman said. "Barry Parker told this jury that just before the shooting began, the defendant said to Isaac Espinoza, 'I don't have any identification...' It's from God's grace that he lived to be a witness at this trial."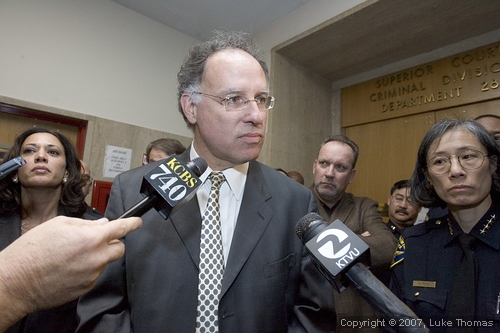 Assistant District Attorney Harry Dorfman flanked by District Attorney Kamala Harris (left)
and Police Chief Heather Fong (right).

District Attorney Kamala Harris congratulated Dorfman to the cheers of others in the hallways of the Hall of Justice.
"Justice has been done as it relates to the killing of the great and heroic Officer Isaac Espinoza," said Harris, who also called Parker a hero.
"Of course the verdict today does not bring Officer Isaac Espinoza back, and that is a tragedy. But what today's verdict does do is it says to all of us that he should never have been killed, when he was killed it was with malice, and it deserves a punishment of life without parole," Harris said.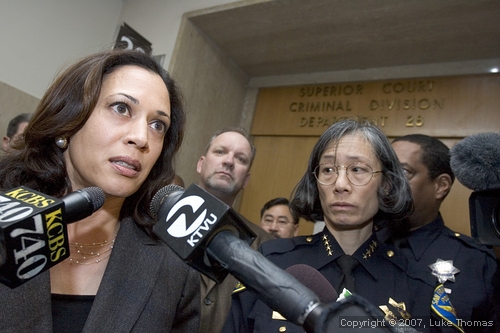 The conviction comes after a tense nine full days of deliberations.
The jury also found Hill, 23, guilty of using an assault rifle for the use of gang purposes, attempted murder of Parker, and several other special allegations.
Hill already pleaded guilty to a count of being part of a criminal street gang.
Dorfman had argued for first-degree murder in the case, claiming that Hill made a premeditated decision to gun down Espinoza and his partner.
Martin Sabelli, Hill's defense attorney, argued that Hill was only protecting himself on enemy gang territory when he turned and shot at two plainclothes officers that he thought were rival gang members.
"I respect the jury's verdict," Sabelli said. "They're a hard-working, skeptical jury."
Sabelli added that he will appeal if necessary, but he would attempt to retry the case first.
"I'm optimistic that we'll receive a new trial, and ultimately we'll prevail," he said.
Jurors left the courtroom without comment as did Hill's mother.
Police Chief Heather Fong attended the reading of the verdict and made a statement afterward.
"We know that the officers in the department on a daily basis are out there putting their lives on the line," Fong said. "Although this verdict does not bring Officer Espinoza back to his family or back to the department, we know that if an officer is injured, if an officer is killed by someone, that justice will be served and that our officers will continue to do the best job that they know how to."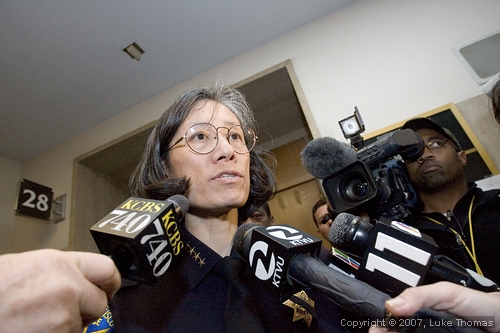 Police Chief Heather Fong
Gary Delagnes, president of the San Francisco Police Officers Association, changed from irate to grateful when he learned that Hill might spend the rest of his life in prison.
"The statement has to be made to society that if you kill a cop, if you kill someone that's trying to protect others, you're not getting out of prison; you're not going to see the light of day; goodbye forever," Delagnes said.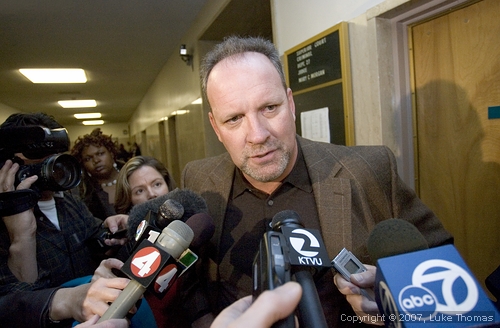 Police Officers Association President Gary Delagnes
Hill is scheduled to be sentenced Feb. 8 in front of Judge Carol Yaggy in department 28.
Copyright © 2006 by Bay City News, Inc. -- Republication, Rebroadcast or any other Reuse without the express written consent of Bay City News, Inc. is prohibited.

####