Homeless veterans get grant money
in San Francisco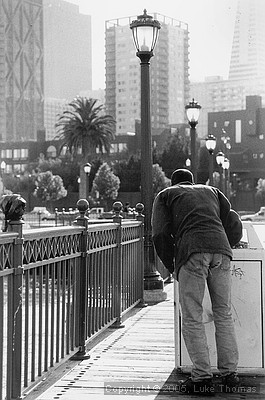 Photo(s) by Luke Thomas
By Elizabeth Daley, Bay City News Service
November 14, 2006
SAN FRANCISCO (BCN) - The Department of Veterans Affairs announced today a $100,000 grant would be given to The Salvation Army in San Francisco to provide assistance to homeless veterans in the area.
According to a statistic provided by the Department of Veterans Affairs, there are 2.3 million veterans in California, and while many of them are able to find employment, the Department of Veterans Affairs reports one third of all homeless men and nearly one quarter of all homeless people in the United States have served in the armed forces.
"Only through a dedicated partnership with community and faith based organizations can we hope to end homelessness among veterans," said
Secretary of Veterans Affairs Jim Nicholson. "California veterans answered their country's call to serve during its greatest times of need, and now some live without shelter. This grant will help them get back on the road to self-reliance."
According to Dave Bayard, a Vietnam veteran and spokesman for the department, most homeless veterans are either homeless due to psychiatric conditions, substance abuse problems or a mixture of both.
The Veterans Affairs Department reports to have the largest integrated network of homeless assistance in the country.
According to department officials, social workers and other clinicians conduct extensive outreach programs, medical treatment and drug and employment counseling programs.
Bayard said it can be difficult for veterans to overcome injuries and enter the workforce and some find themselves permanently disabled.
According to Bayard, multiple trauma injuries including traumatic brain injury are the most common injuries suffered by recent veterans. Bayard said traumatic brain injuries occur when personnel endure intense explosion and can be extremely difficult to overcome.
The Salvation Army will operate on Turk Street in San Francisco and provide mental health, substance abuse and employment services.
Copyright © 2006 by Bay City News, Inc. -- Republication, Rebroadcast or any other Reuse without the express written consent of Bay City News, Inc. is prohibited.
####