Newsom unveils first bus in fleet
of hybrid MUNI buses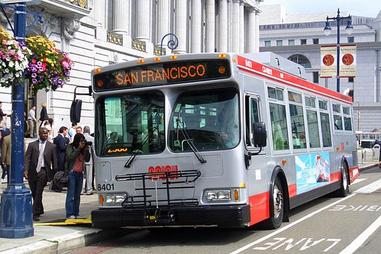 Photo courtesy DaimlerChrysler.com
By Tamara Barak and Caitlin Cassady, Bay City News Service

April 10, 2007
SAN FRANCISCO (BCN) - Mayor Gavin Newsom and San Francisco Municipal Transportation Agency chief Nat Ford this morning unveiled the first of what will be a fleet of diesel-electric hybrid Muni buses.
"This is part of our effort to have a zero-emission fleet by 2015. The hybrids are more fuel efficient, produce less emissions and are less costly," than the 20-year-old diesel-powered buses they will replace, Newsom said. More than half of Muni's vehicles already run on electricity provided by overhead cables.
The new buses are in line with Proposition I, passed by San Francisco voters in 2004. The law mandates that Muni replace diesel buses that were purchased before 1991 with green powered vehicles.
The city will put about five hybrid buses into service each week until it reaches its goal of 86 new vehicles.
The 30-foot and 40-foot buses feature larger passenger windows, as well as low floors to accommodate disabled and senior citizen boarding, according to Ford.
They will also feature cameras installed in the roof "to deter improper behavior on the vehicle," Ford said.
The hybrid vehicles, which feature a small diesel engine that powers an electric generator, will save about 20,000 gallons of gas per vehicle each year, Ford said.
They will also save the city considerable money in maintenance fees, as the hybrid buses are generally considered more reliable, according to Ford.
Once all the buses are acquired, San Francisco's fleet of hybrid vehicles will be the third largest in the U.S., Newsom said. New York City, Boston and Seattle have also employed the technology.
Muni isn't the only city agency to overhaul its fleet to reduce vehicle emissions.
As of March 19, more than 400 garbage collection vehicles in San Francisco had changed over to alternative fuels, according to Norcal Waste System Inc. spokesman Robert Reed.
The alternative fuels cut greenhouse gas emissions by 5,400 tons per year, a 21 percent decrease from when the trucks were using only diesel.
The three companies that work under the umbrella of Norcal Waste System Inc. - Sunset Scavenger, Golden Gate Disposal & Recycling and S.F. Recycling & Disposal, Inc. - started experimenting with alternative fuels in 2001 when they built a liquefied natural gas filling station, Reed reported.
The pilot program for the alternative fuel fleet consisted of eight transfer trucks and five collection trucks.
The remainder of the fleet was switched over in March and the trucks run on liquefied natural gas or biodiesel B-20, a blended fuel, which is 20 percent biodiesel and 80 percent low-sulfur diesel, according to Reed.
In addition to Muni's efforts to go green, the transit system is also attempting to become more user-friendly. Beginning today at 5:30 p.m., the SFMTA will offer Fast Passes on its Web site.
For more information, log onto http://www.sfmta.com.
Copyright © 2007 by Bay City News, Inc. -- Republication, Rebroadcast or any other Reuse without the express written consent of Bay City News, Inc. is prohibited.
####