Poll finds support legalizing illegal immigrants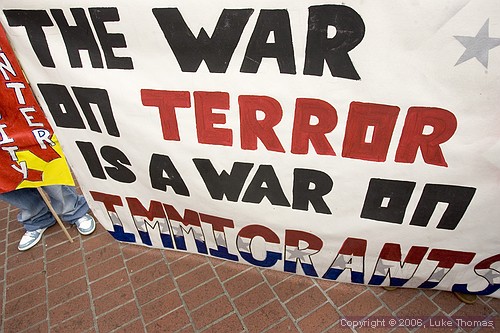 Photo(s) by Luke Thomas
By Jason Bennert

June 27, 2007
More than half of state voters favor immigration reform that provides a path to legal residency for illegal immigrants, according to a new statewide poll released Tuesday by the Survey and Policy Research Institute at San Jose State University.
The poll also found that Gov. Arnold Schwarzenegger continues to enjoy high approval ratings and a proposed modification of the state's term limits law that is on the February 2008 ballot is gaining support.
According to the poll, 55 percent of the state's voters, and 57 percent of adults, favor an immigration reform plan that includes providing a path to legal residency for illegal immigrants currently in the U.S.
The same question has been asked regularly of state residents by the research institute since March 2006 and half or more of residents have always supported legal residency, according to poll director and SJSU political science professor Melinda Jackson.
A comfortable majority of state voters, 61 percent, approve of Schwarzenegger's job performance, compared with only 24 percent of state voters who approve of President Bush's job performance, according to the poll.
"Californians have responded to the governor's message of post-partisanship and his focus on issues like global warming. Schwarzenegger has shown that he can work cooperatively with the Democratic legislature in Sacramento and the voters are giving him high marks,'' Jackson said.
Voters are also considering allowing state legislators to spend more time in either the Assembly or the State Senate in exchange for a slight reduction in the overall time they could spend in the Legislature.
The ballot measure would allow a lawmaker to spend 12 years in the Legislature but they could spend it all in one house. Currently, legislators are limited to six years in the Assembly and eight years in the State Senate.
The measure approval number has risen between March and June from 51 percent to 56 percent. However, Jackson cautions that the support for the measure could be soft.
"Californians like the idea or reducing the overall number of years politicians may spend in office. But this proposition also lengthens the amount of time a legislator may serve in one chamber or the other so the ultimate outcome will likely depend on which aspect of the proposal voters focus on,'' Jackson said.
"If opponents spend money on television ads against this proposal, if Gov. Schwarzenegger opposes it or if Republicans and conservatives feel tricked, the measure could lose ground very quickly,'' Jackson said.
The poll of 645 likely voters statewide was conducted between June 18-22 and the margin of error is plus or minus 3.9 percent.
Copyright © 2007 by Bay City News, Inc. -- Republication, Rebroadcast or any other Reuse without the express written consent of Bay City News, Inc. is prohibited.
####