San Francisco based effects studio celebrates Oscar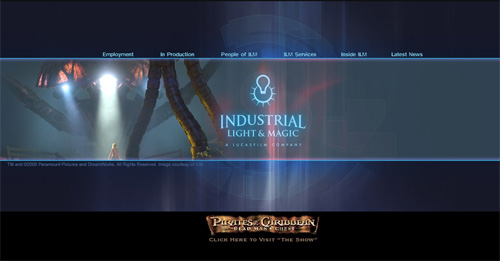 Screenshot courtesy Industrial Light and Magic website
By Brent Begin, Bay City News Service

February 27, 2007
SAN FRANCISCO (BCN) - Employees at Industrial Light and Magic celebrated the San Francisco-based company's 15th Academy Award yesterday after winning for the visual effects of "Pirates of the Caribbean: Dead Man's Chest."
The company's visual effects supervisor John Knoll and animation supervisor Hal Hickel accepted the Oscar for best achievement in visual effects.
"I've always felt that being nominated for an Academy Award is a tremendous honor," said Knoll, who has received four Oscar nominations in his career. "With effects-driven films becoming increasingly more sophisticated with each passing year, it makes receiving the Oscar this time around that much more special."
Knoll also thanked his team for their hard work, as did Hickel.
"It's been a while since we've been able to bring one of these golden guys back to the studio," Hickel said. "I couldn't be more proud of the work our team put into this film. It's the perfect example of technology and creativity coming together to further the art of cinematic storytelling, and at the end of the day that's what we all strive to do."
Industrial Light and Magic, part of Lucasfilm Ltd., moved its headquarters to the San Francisco Presidio in 2005. This is the first Oscar the company has won since the move.
The company has been nominated for 23 Academy Awards and has won for such films as Star Wars, Indiana Jones and Jurassic Park.
Copyright © 2007 by Bay City News, Inc. -- Republication, Rebroadcast or any other Reuse without the express written consent of Bay City News, Inc. is prohibited.

####