Brisbane firm agrees to pay $37 million to resolve charges of peddling unapproved pharmaceutical use
By Julia Cheever, Bay City News Service

October 26, 2006
SAN FRANCISCO (BCN) - A Brisbane pharmaceutical company has agreed to pay nearly $37 million to resolve criminal and civil charges for illegally marketing a drug for an unapproved use, federal prosecutors announced in San Francisco today.
The agreement with InterMune Inc. concerning the drug Actimune was announced by U.S. Attorney Kevin Ryan.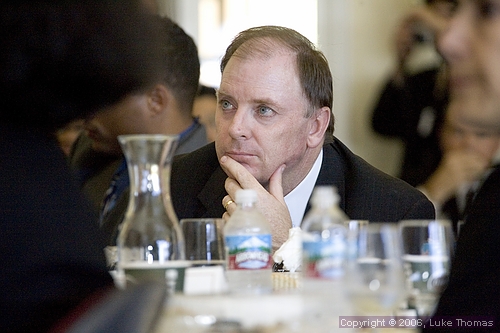 U.S. Attorney Kevin Ryan
A criminal charge filed in federal court in San Francisco on Wednesday accuses the company of misbranding the drug by fraudulently promoting it as a treatment for idiopathic pulmonary fibrosis, a fatal lung-scarring disease, between August 2002 and January 2003.
The U.S. Food and Drug Administration has never approved Actimmune as a treatment for the disease, Ryan said. There is no FDA-approved treatment for the illness, which afflicts 83,000 Americans.
Under a deferred prosecution agreement also filed in court on Wednesday, the company will cooperate with an ongoing probe and will pay the federal government $30.2 million and state governments $6.7 million plus interest for losses suffered by Medicare, Medicaid, and other programs.
The charge will be dropped after two years if the company abides by the agreement, the document says.
The deferred prosecution agreement also states the company disseminated information claiming the drug may extend the lives of patients with the disease even though its own studies had not shown the drug was effective.
Peter Keisler, assistant attorney general in charge of the Justice Department's civil division, said, "It is vital to public health and safety that pharmaceutical companies are deterred from improperly marketing their drugs to doctors and patients to treat illnesses that these drugs are not approved to treat."
InterMune President Dan Welch said, "We now put this matter behind us and we will focus our resources on what we believe is a promising future for our company and our shareholders."
Company spokeswoman Pam Lord said, "This did involve former employees in a time period that preceded the current management that has now been installed and is setting up a rigorous compliance program."
She said the $37 million will be paid over a period of five years. According to the deferred prosecution agreement, the company received most of its sales revenue from Actimmune between August 2002 and January 2003 and the "vast majority" of those sales were for prescriptions for the lung disease.
The agreement says, "InterMune does not contest that the Department of Justice developed evidence in its investigation that one or more employees violated federal law" during that period by instructing some members of its sales force and a specialty pharmacy to promote Actimmune as a treatment for idiopathic pulmonary fibrosis.
Actimmune has been approved by the FDA only for treatment of a rare immune system disease and a rare bone disease that affect very small numbers of patients.
Copyright © 2006 by Bay City News, Inc. -- Republication, Rebroadcast or any other Reuse without the express written consent of Bay City News, Inc. is prohibited.

####