Peace activists call on congress to defund Iraq war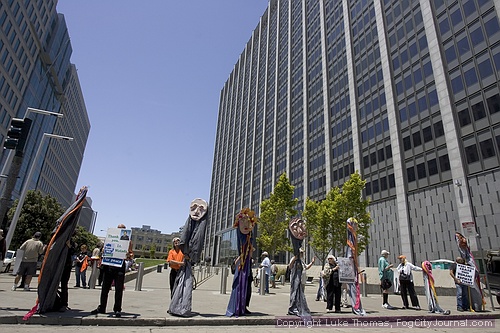 Peace activists gathered today in San Francisco to post a peace proclomation
on the doors of the San Francisco federal building. Members of the Declaration of Peace Campaign are calling on congress to defund the Iraq war and for an immediate complete withdrawal of U.S. troops from Iraq.
Photo(s) by Luke Thomas
By Laura Dudnick

July 5, 2007
Activities that took place in front of San Francisco's Federal Building this afternoon to protest war in Iraq "went extremely well," according to Sally Hindman of the Declaration of Peace Campaign.
The advocate said approximately 40 people, including members of social justice groups and anti-war organizations, showed up to participate in the vigil and proclamation posting on the doors of the Federal Building.
The proclamation listed what the protestors believe are "atrocities that have been committed during the war in Iraq," Hindman said.
Hindman also said the proclamation was read aloud.
Following the reading, she said, protestors laid themselves down in front of the Federal Building and draped sheets over their bodies to honor soldiers and civilians who have lost their lives in the Iraq War.
The vigil included nine giant puppets of saints and prophets, displayed by the religious protestors.
Twelve people were arrested for civil disobedience, Hindman said, which was allegedly committed by laying down in front of the Federal Building doors.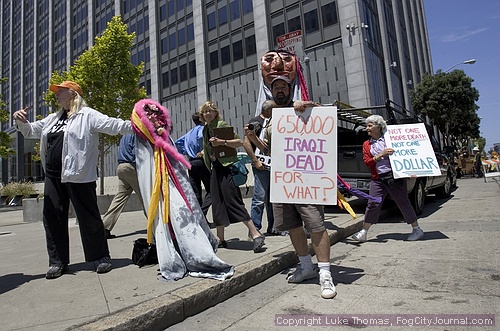 Copyright © 2007 by Bay City News, Inc. -- Republication, Rebroadcast or any other Reuse without the express written consent of Bay City News, Inc. is prohibited.
####