Brown: Sentencing ruling "golden opportunity
for legislature"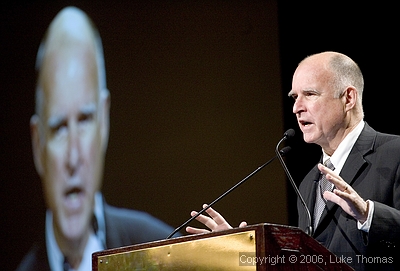 California Attorney General Jerry Brown
Photo(s) by Luke Thomas
By Julia Cheever, Bay City News Service

January 23, 2007
California Attorney General Jerry Brown said Monday that a U.S. Supreme Court ruling striking down the state's determinate sentencing law could affect thousands of inmates who may seek resentencing.
At the same time, Brown said, the ruling opens a "golden opportunity" for the California legislature to re-examine sentencing.
Brown said, "This is a golden opportunity for the Legislature to take a hard look at the criminal sentencing system and the prison system as well."
The high court said by a 6-3 vote that California's system of allowing trial judges to increase sentences is unconstitutional because it violates defendants' Sixth Amendment right to a jury trial.
The ruling was made in the case of former Richmond police officer John Cunningham of San Pablo, who was convicted of sexually abusing his son and sentenced to 16 years in prison.
The 30-year-old determinate sentencing law sets a lower, middle and upper term for most felony crimes. Judges are required to impose the middle term unless they determine that aggravating or mitigating circumstances justify the lower or upper penalty.
The terms for Cunningham's conviction for continuous sexual abuse of a child were six, 12 or 16 years in prison.
A Contra Costa County Superior Court trial judge sentenced him to the upper term after concluding there were aggravating circumstances, including the boy's vulnerability.
The Supreme Court based its decision on previous rulings in 2004 and 2005 in which it struck down Washington state and federal sentencing schemes that allowed judges to decide to increase sentences.
Justice Ruth Bader Ginsburg wrote, "Because the determinate sentencing law authorizes the judge, not the jury, to find the facts permitting an upper term sentence, the system cannot withstand measurement against our Sixth Amendment precedent."
The court said it was up to California to decide how to adjust its sentencing system, but noted that one option is to allow juries to decide whether a sentence should be increased.
Brown said he is considering asking the California Supreme Court to construe the law as giving judges discretion in a way that meets constitutional standards without requiring jury decisions on sentencing circumstances.
In the meantime, he said, inmates sentenced to upper terms who are seeking resentencing could either be given a jury proceeding for resentencing or be sentenced to the middle term.
David LaBahn, executive director of the California District Attorneys Association, estimated that the ruling will affect about 5 percent of state prisoners. He noted that more than 90 percent of inmates are in prison as a result of plea agreements.
LaBahn said his organization plans to ask the Legislature to change the law to allow judges to impose any of the three terms without requiring a finding of aggravating or mitigating circumstances.
Stanford University Law School professor Jeffrey Fisher said, "I think it's good that the court has stood its ground in terms of the jury trial right and that California will take a fresh look at its sentencing system."
Fisher wrote a friend-of-the-court brief in the case for the National Association of Criminal Defense Attorneys.
Peter Gold, Cunningham's lawyer in the appeal, said he expects Cunningham, who is now serving his sentence, to be resentenced in Contra Costa County Superior Court.
Gold said, "I am very happy the opinion strongly reaffirms" the high court's precedent in the previous sentencing cases.
California's determinate sentencing law, enacted in 1977, was intended to reform the state's previous indeterminate sentencing, in which judges gave open-ended prison terms and the state parole board determined when a convict would be released.
Copyright © 2007 by Bay City News, Inc. -- Republication, Rebroadcast or any other Reuse without the express written consent of Bay City News, Inc. is prohibited.

####