Jerry Brown sworn in as State Attorney General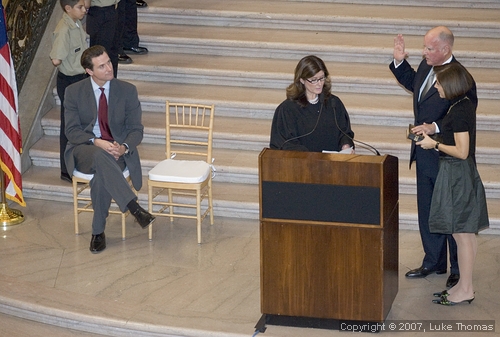 Former Oakland Mayor Jerry Brown, with left hand on a copy of the Bible, was sworn in to office today as California's 31st Attorney General by Brown's neice, San Francisco Superior Court Judge Kathleen Kelly. The swearing in ceremony was held
in the rotunda of San Francisco City Hall.
Photo(s) by Luke Thomas
By Tamara Barak, Bay City News Service

January 8, 2007
SAN FRANCISCO (BCN) - Promising to use the full resources of his office to enforce state environmental and labor laws, Jerry Brown was sworn in today as California's 31st attorney general.
The former Oakland mayor and California governor was sworn in at an inauguration ceremony at San Francisco City Hall. His niece, San Francisco Superior Court Judge Kathleen Kelly, administered the oath of office.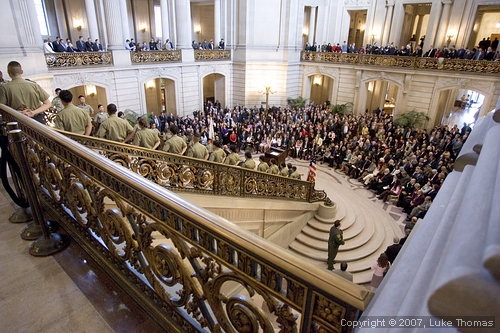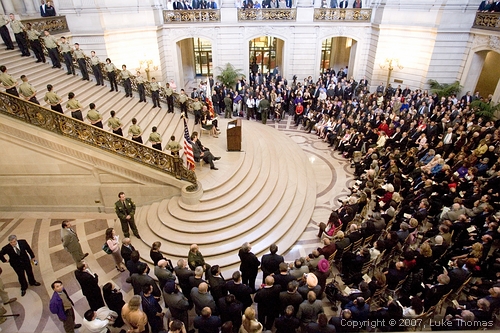 "Growing up, you inspired and challenged each one of us and even though a conversation with you could feel like an oral argument before the court, we were grateful for the profound impact you had on our lives," Kelly said.
With San Francisco Mayor Gavin Newsom looking on, Brown pledged to enforce state laws "vigorously and with common sense."
He said he plans to aid local police departments by funding their crime-fighting efforts through the state Department of Justice.
Brown also said he will ensure laws that protect working people, such as overtime and workers compensation, are enforced.
"I intend to use the full resources of the Office of the Attorney General to make sure labor contractors, employers -whoever - follow these laws," he said.
Brown also pledged to defend laws that protect against greenhouse gas emissions, and to use his office to promote urban growth in a sustainable way through a concept he called "elegant density."
"If we're going to protect our countryside from sprawl, we're going to have to learn to live close together in an elegant, sustainable way," he said.
The Democrat's speech was met by a standing ovation.
Copyright © 2006 by Bay City News, Inc. -- Republication, Rebroadcast or any other Reuse without the express written consent of Bay City News, Inc. is prohibited.

####