Ed Jew linked to unlicensed pot club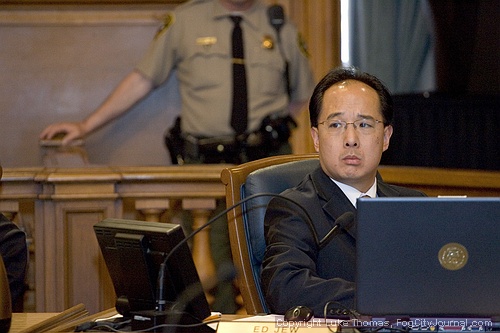 District 4 Supervisor Ed Jew's troubles continue to mount. According to city records,
Jew is part-owner of a building that houses an unlicensed marijuana club.
Photo(s) by Luke Thomas
By Tamara Barak
May 26, 2007
Troubles continue to mount for embattled San Francisco Supervisor Ed Jew with the revelation that he is part owner of a building that houses an unlicensed medical marijuana club.
Jew and his parents, Howard and Anne Jew, each own a third of a building that houses addresses 1543 and 1545 Ocean Ave., Katie Muehlenkamp, aide to San Francisco Assessor-Recorder Phil Ting, confirmed yesterday.
"It's a multi-family residential building including a flat and a store," Muehlenkamp said.
The store is cannabis club NorCal Herbal Relief Center, which is one of four medical marijuana dispensaries in San Francisco that has failed to apply for an operating permit, according to the city's Department of Health.
There are 31 known dispensaries in the city.
"As of today, I have not received an application for them to operate that facility," said Larry Kessler, senior environmental health specialist at the health department.
If NorCal Herbal Relief Center doesn't obtain a final permit by the end of June, it may be subject to closure, said Kessler. However, if legislation introduced by San Francisco Supervisor Michela Alioto-Pier is passed, that deadline will be extended until January.
Under Alioto-Pier's amendment, pot clubs would have to start the application process by July 1, Kessler said.
The dispensary's attorney, Matthew Kumin, said his clients at the member-owned cooperative plan to bring their dispensary into compliance.
"They are trying to get a permit. It's a very long, involved application and they're planning to get it in under the deadline," Kumin said.
Kessler agreed that the permit process could be a lengthy one.
"There's a bit of paperwork involved and approvals necessary from other city departments," he said.
Jew's property was the former home of a pot club called Herbal Relief Center, which was closed following a Drug Enforcement Administration raid in June 2005. The raid, called Operation Urban Harvest, targeted medical marijuana clubs that DEA investigators believed were fronts for illegal drug trafficking.
Kumin said NorCal Herbal Relief Center is a completely different cannabis club than the one that was raided in 2005 and is staffed by different people.
"These guys had nothing to do with the prior operation," he said.
Kumin said the sudden attention from the dispensary's apparent connection to Jew has overwhelmed the staff at the small club.
"I don't think my clients even knew who Ed Jew was," he said.
A woman who answered the phone at the NorCal Herbal Relief Center yesterday denied that the city supervisor was one of the club's landlords.
"Ed Jew is not part owner of our building," said the woman, who refused to give her name.
"We deal with Howard Jew, that's his father. We have no ties, no contact, no dealings with Ed Jew."
Special Agent Joseph Schadler said he couldn't comment on whether Jew's interest in the building would become part of the FBI investigation.
The FBI's public corruption unit is investigating possible illegal payouts accepted by Jew. The supervisor is also the subject of a probe by the city attorney's office into whether he lives in the Sunset District, which he represents.
Jew, who is in China, has until June 8 to submit a copy of his 2006 federal and state tax returns, driver's license, vehicle registration and utility bills from 2450 28th Ave. in San Francisco to City Attorney Dennis Herrera.
Herrera's spokesman, Matt Dorsey, said the city attorney's office would likely not be looking into Jew's involvement with the Ocean Avenue property.
Jew's attorney, Steven Gruel, did not return calls for comment.
Copyright © 2007 by Bay City News, Inc. -- Republication, Rebroadcast or any other Reuse without the express written consent of Bay City News, Inc. is prohibited.
####