Alsup denies Thanksgiving release for Josh Wolf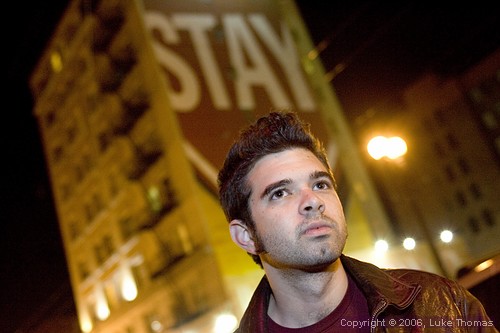 Josh Wolf
Photo(s) by Luke Thomas
By Julia Cheever, Bay City News Service

November 21, 2006
SAN FRANCISCO (BCN) - A jailed journalist's bid for a Thanksgiving furlough from his contempt-of-court imprisonment was denied by a federal judge in San Francisco today.
U.S. District Judge William Alsup turned down the request by video journalist Josh Wolf, 24, in a one-sentence written ruling issued this afternoon about an hour after he held a hearing on Wolf's request.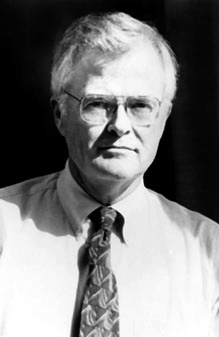 U.S. District Judge William Alsup
Photo courtesy Ninth Circuit Blog

The judge wrote, "Assuming the court has jurisdiction, which is not entirely clear, the court finds that the request for a Thanksgiving holiday from confinement is not warranted."
Wolf has been imprisoned at the Federal Correctional Institution in Dublin for three months on Alsup's order for being in contempt of court in refusing to give a federal grand jury unaired sections of a videotape of an anarchist demonstration in San Francisco last year.
Wolf contends that handing over the tapes would make him into a spy for the government and impede his ability to work as a journalist.
He had asked for a temporary release to spend the Thanksgiving weekend with his parents in Southern California.
Earlier, at the close of today's hearing and before issuing the ruling, the judge told Wolf, "I hope you'll take to heart that judges, no matter how sympathetic they may be to you, are sworn to uphold the law."
The judge said, "Consider that this great country that has allowed you to be a journalist sometimes asks for something back."
Wolf, who attended the hearing in prison garb, conferred with his attorney, Dan Siegel, during the session but made no comments in court.
Siegel argued during the hearing that Alsup has the authority to be flexible in the sanctions he selects for the contempt of court.
The attorney said, "You have the discretion to give this young man a break.
"Our request to the court is to exercise compassion to allow him to spend time with his mother, grandfather and family over the holidays," Siegel said.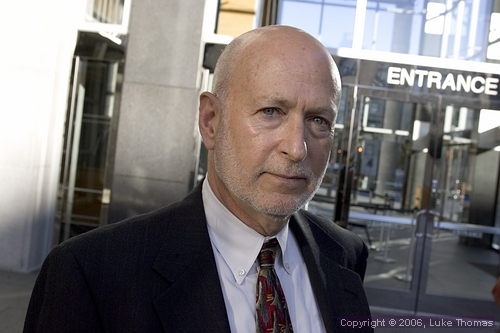 Attorney Dan Siegel
Assistant U.S. Attorney Jeffrey Finigan countered that it would be "contrary to the whole purpose of contempt to allow people to get out like this."
The grand jury is investigating a possible attempted arson of a police car during the July 8, 2005, demonstration, which was a protest of an economic summit in Scotland. The car was partly paid for with federal funds.
Wolf sold some parts of the videotape to local television stations and posted some sections on his Web site.
He could be kept in prison until the grand jury's term expires in July.
He was incarcerated in the Dublin prison from Aug. 1 to Sept. 1, was freed for three weeks during an unsuccessful appeal and then was imprisoned again from Sept. 22 until the present.
Copyright © 2006 by Bay City News, Inc. -- Republication, Rebroadcast or any other Reuse without the express written consent of Bay City News, Inc. is prohibited.

####