Josh Wolf discusses release from U.S. prison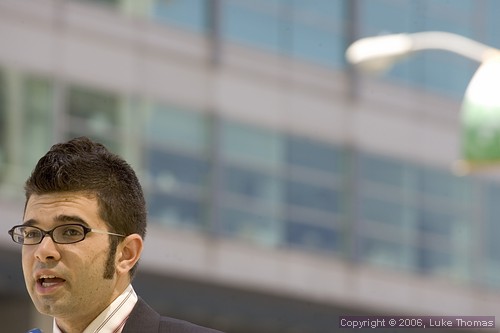 Journalist Josh Wolf. FIle photo.
Photo(s) by Luke Thomas
By Julia Cheever, Bay City News

April 4, 2007
SAN FRANCISCO (BCN) - Freelance journalist Josh Wolf, freed from a federal prison after seven and one-half months in custody for contempt of court, said in San Francisco Tuesday he feels he emerged with his ethics intact.
Wolf, 24, of San Francisco, spent longer in prison than any other reporter in U.S. history in a civil contempt of court case.
He was released from a federal prison in Dublin this afternoon after reaching an agreement with prosecutors on a federal grand jury's bid for his testimony and a videotape of a violent demonstration in San Francisco in 2005.
Under the pact, Wolf provided a full copy of his videotape and answered two questions, but won't have to testify before the grand jury or reveal the identities of participants in the protest.
At a news conference on the steps of City Hall, Wolf said, "The agreement not only leaves my ethics intact but serves the role of a free press in our society."
He said he didn't mind publishing the full videotape because it contained no confidential information, but said that revealing the names of protesters would have jeopardized his credibility as a journalist.
"It was the testimony which I found to be the more egregious assault on my rights and ethics as a journalist," Wolf said.
He said, "I feel really good to be back here in San Francisco" and said he plans to plunge ahead with two projects to publish neglected news stories on the Internet and create a blog for prisoners.
Wolf said he thinks his prison time and the publicity about it helped to focus the attention on the need for a federal shield law for reporters.
Many states, including California, have shield laws protecting journalists from revealing confidential sources and unpublished material, but there is no such federal law.
Wolf said, "I lost quite a decent chunk of my time" while in prison, but said it was worth it to protect the principle of not testifying before the grand jury.
Wolf was found in contempt of court and jailed by U.S. District Judge William Alsup on Aug. 1 for refusing to testify and give up the full videotape. He was in the Dublin prison from then until yesterday except for three weeks of release in September during an unsuccessful appeal.
Alsup ordered his release and ended the contempt of court after prosecutors and Wolf's attorneys filed papers announcing the agreement.
The agreement came after two days of mediation before U.S. Magistrate Judge Joseph Spero. Alsup ordered the mediation last month.
U.S. Attorney Scott Schools issued a brief statement saying, "Wolf complied with the grand jury subpoena by producing the responsive materials in his possession to the government and by answering questions."
The July 8, 2005, demonstration was a protest of an international economic summit in Scotland. San Francisco Police Officer Peter Shields suffered a fractured skull while he was trying to arrest a protester.
Prosecutors previously said that one reason for a federal investigation was that a San Francisco police car that was the subject of a possible arson attempt was paid for with federal funds.
The two questions Wolf answered were whether he saw anyone throw anything at a police car and whether he could identify the person Shields was trying to arrest at the time he was struck on the head.
He answered no to both questions, according to a court filing.
Wolf had previously sold parts of his videotapes to local television stations and posted sections on his web site.
He posted the entire tape on his Web site with a statement saying, "Today, you the public have the opportunity to be the judge and I am confident you will see, as I do, that there is nothing of value in this unpublished footage."
Wolf's resistance to the grand jury subpoena was supported by a number of journalist and civil rights groups, including the Society for Professional Journalists, Reporters Without Borders, the National Writers Union and the National Lawyers Guild.
Richard Knee, spokesman for the San Francisco Bay Area chapter of the National Writers Union, said, "All journalists - and indeed all Americans - owe Josh their deep gratitude to the sacrifice he has made in fighting to uphold the time-honored principle of an independent Fourth Estate."
Reporters Without Borders, based in France, said it "welcomes Josh Wolf's release with great satisfaction."
Copyright © 2007 by Bay City News, Inc. -- Republication, Rebroadcast or any other Reuse without the express written consent of Bay City News, Inc. is prohibited.

####