Council adops six-year strategic plan for California courts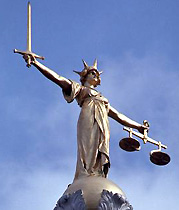 Photo courtesy Queen and State
By Julia Cheever, Bay City News Service

December 4, 2006
SAN FRANCISCO (BCN) - A state council that sets policy for California's court system has launched a new strategic plan for the state's trial and appeal courts for the next six years.
The plan, entitled "Justice in Focus," was adopted by the Judicial Council at a meeting in San Francisco on Friday.
It addresses an array of challenges facing California courts in changing times, including ensuring fairness and access; responding to and reflecting diversity; and modernizing court management and facilities.
State Supreme Court Chief Justice Ronald George, who chairs the council, said, ""The plan affirms the council's ongoing commitment to ensuring access and quality services for all Californians."
"The new strategic plan builds on past successes to meet the current and evolving challenges of delivering quality justice in a new era," George said.
The plan is intended to guide the priorities and work of the council, the courts and the council's staff agency, the Administrative Office of the Courts, through 2012.
The California court system is the largest in the nation, with 1,500 trial judges in 58 county-based superior courts, 105 Court of Appeal justices in six appellate districts and seven Supreme Court justices.
The plan is based on six goals for the courts:
- Ensuring equal access to the courts, fairness and respect for diversity.
- Maintaining the independence and accountability of the judicial branch of government.
- Modernizing management and administration.
- Delivering the highest quality of justice and service to the public.
- Enhancing professional education for judges and court staff.
- Making sure that courts have administrative structures, technology and physical facilities that meet the needs of the public and the judiciary.
As a next step in carrying out the goals, the Administrative Office of the Courts will work with court and council representatives to develop an operational plan. The plan is to be presented to the council for review next summer.
The council is made up of 15 judges, four lawyers and two legislators. The group also has seven non-voting advisory members who include court administrators and the president of the California Judges Association.
The council developed its first strategic plan for state courts in 1992 and currently prepares a new plan every six years.
George and AOC director William Vickrey wrote in the introduction to the plan, "California's judicial branch is committed to courts that are fair and accessible, as well as to services that are responsive to the needs of the public - services that inspire the trust and confidence of Californians from all walks of life."
Copyright © 2006 by Bay City News, Inc. -- Republication, Rebroadcast or any other Reuse without the express written consent of Bay City News, Inc. is prohibited.

####