Retiring San Francisco City Hall staffer lauded
for legislative expertise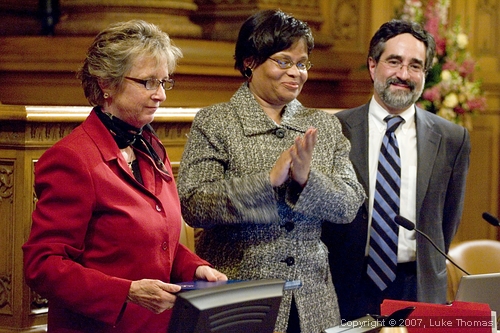 San Francisco Board President Aaron Peskin and Clerk of the Board, Gloria Young, today paid tribute on behalf of the CIty of San Francisco to retiring veteran Board Deputy Director, Kay Gulbengay, for 35 years of her dedication to public service.
Photo(s) by Luke Thomas
By Emmett Berg, Bay City News Service

January 9, 2007
SAN FRANCISCO (BCN) - San Francisco supervisors paid tribute today to a retiring City Hall employee whose service spanned seven mayoral administrations over 35 years.
San Francisco native Kay Gulbengay, 55, most recently held the non-descriptive title of deputy director 2, but her influence stemmed from her extensive knowledge of lawmaking and the myriad details involved in public policy, according to several supervisors.
"She knows the legislative process inside and out," Board President Aaron Peskin said.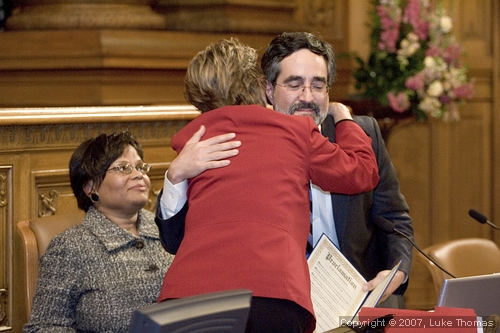 Gulbengay receives a warm embrace from Peskin
after proclaiming January 9 'Kay Gulbengay day'.
Clerk of the Board Gloria Young said Gulbengay was invaluable.
"I recognize you as an employee of great quality and substance," Young told her colleague.
Gulbengay nearly got emotional as she addressed a standing ovation that followed accolades from individual supervisors.
"I am touched-but not speechless," Gulbengay said.

Kay Gulbengay
"I feel blessed. I will always consider it an honor and a privilege to have served the Board of Supervisors," Gulbengay said, later adding, "You make me feel like a real Mother Superior."
Co-workers are planning a send off party in her honor.

Copyright © 2006 by Bay City News, Inc. -- Republication, Rebroadcast or any other Reuse without the express written consent of Bay City News, Inc. is prohibited.

####