U.S. Attorney Ryan leaving,
interim replacement named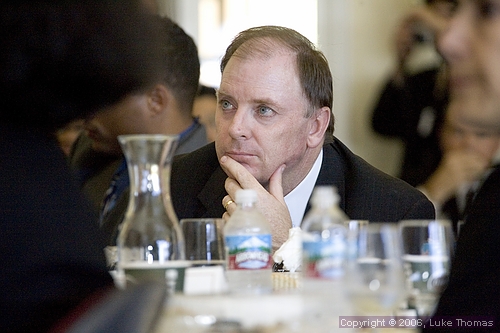 U.S. Attorney Kevin Ryan
Photo(s) by Luke Thomas
By Jason Bennert, Bay City News Service

February 16, 2007
United States Attorney Kevin Ryan announced yesterday that today will be his last day on the job, and the Justice Department simultaneously named a former South Carolina federal prosecutor as his interim replacement.
Ryan had announced last month that he was stepping down after more than four years heading the U.S. Attorney's Office for the Northern District of California, which encompasses 14 coastal and Bay Area counties stretching from Big Sur to the Oregon border.
"I am grateful to have had the opportunity to serve as the United States Attorney. I sincerely thank all of the staff at the office for their hard work to make our community a safer place to live. I also thank all of our partners in law enforcement who have put in countless hours in investigating and prosecuting crimes in Northern California,'' Ryan said in a statement.
Ryan's interim replacement will be Scott Schools, who currently works for at the Justice Department headquarters in Washington, D.C. From 1989 until 2005, with a five year break between 1992 and 1997, he worked as a federal prosecutor in the United States Attorney's Office for the District of South Carolina serving as interim U.S. Attorney there for 10 months in 2001.
He was in private practice in Charleston, South Carolina from 1992-1997. He graduated from Duke University and the University of Texas School of Law.
A permanent replacement for Ryan must be nominated by President George W. Bush and approved by the Senate.
The U.S. Attorney for the Northern District of California supervises a staff of more than 200 people, including 115 Assistant United States Attorneys, and manages a $25 million annual budget, according to the district's website.
Copyright © 2007 by Bay City News, Inc. -- Republication, Rebroadcast or any other Reuse without the express written consent of Bay City News, Inc. is prohibited.
####