Lake Tahoe fire destroys 220 homes,
2,500 acres burned
Inferno continues to rage threatening 500 more homes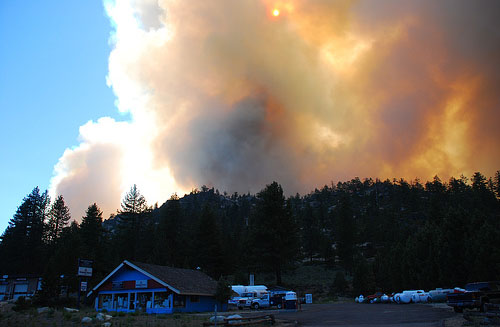 Photo courtesy TheNins
By Ananda Shorey

June 25, 2007
Planes are having trouble taking off this morning to fight a fire near Lake Tahoe that has burned 220 homes and charred 2,500 acres because thick plumes of smoke have blanketed the area.
"Another 500 homes are in desperate peril," said Mary Pierce, a fiscal administrative manager in the Office of Emergency Services at El Dorado County Sheriff's Office.
The wind isn't blowing and smoke is settling over the area, Pierce said. There is concern because winds are expected to pick up again mid-week, possibly causing the fire to spread more quickly.
"It is just kind of a surreal atmosphere," Pierce said. No injuries have been reported as result of the blaze, known as the Angora Fire, which is burning near South Lake Tahoe, Pierce said.
The South Lake Tahoe Parks and Recreation Department set up a temporary shelter and has moved evacuated residents from areas southwest of Lake Tahoe between Meyers and Fallen Leaf Lake to nearby hotels.
Some displaced residents were seeking shelter at the recreation center, while others had been placed at hotels and provided with food and clothing.
"Panic has not set in," Pierce said. "They are helping each other -- neighbors helping neighbors."
The fire is thought to have begun around 2 p.m. Sunday, according USDA Forest Service spokesman Rex Norman.
A USDA Forest Service operator said she had been fielding calls from concerned vacation homeowners who lived as far away as Hawaii and Rhode Island.
The National Weather Service issued a dense smoke advisory for the area, which will remain active until 11 a.m.
Ash is expected to accumulate from South Lake Tahoe to the areas of Carson City and Dayton. Residents in the area should avoid prolonged exposure to smoke and be aware that conditions may decrease visibility.
The fire is thought to have started in the mostly single-family subdivision of Tahoe Paradise, in the general vicinity of Mt. Rainier Street and North Upper Truckee Boulevard.
"It was a human-caused fire," Norman said. There is no evidence that its origin is suspicious, he said.
So far, crews from the Forest Service, Lake Tahoe Fire Department and Cal Fire "are working to establish lines and do some backfire operations," Norman said. Air support has been and will continue to be used to help fight the fire, he added.
There is no estimate for containment, Norman said.
Copyright © 2007 by Bay City News, Inc. -- Republication, Rebroadcast or any other Reuse without the express written consent of Bay City News, Inc. is prohibited.
####