Leno authors government accountability bills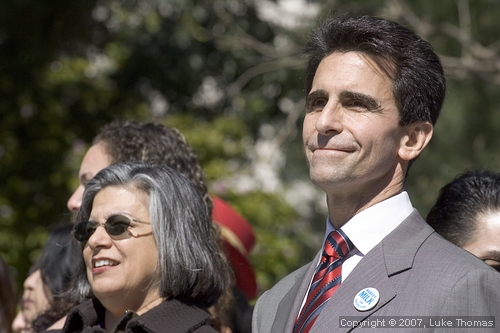 Assemblymember Mark Leno. File photo.
Photo(s) by Luke Thomas
By Ari Barak, Bay City News Service

March 12, 2007
Three bills authored by Assemblyman Mark Leno, D-San Francisco, intend to make government both more accessible and accountable to the public, a spokesperson for Leno's office said on the eve of National Sunshine Week.
Leno's effort parallels a nationwide week of focus on open government and freedom of information with the introduction of AB 1393, AB 1648 and AB 1668 into the state Assembly, intended to strengthen the California Public Records Act, according to Leno's press secretary Shannan Velayas.
"The California Public Records Act has been our citizens' best tool in staying informed about what their government is doing," Leno said in a prepared statement.
"It is the duty of every public servant to carry out the spirit and letter of this important sunshine law," he added.
According to Leno's office, AB 1393 is a response to a finding that most state agencies were not fully complying with requests for public records under the California Public Records Act.
AB 1393 is designed to simplify the process of requesting public records by requiring state agencies to allow requests via their Web sites, Leno's office reported.
AB 1648 would require police commissions to conduct their hearings in public, reversing an Aug. 29 California Supreme Court decision and allowing the public access to an officer's discipline records, according to Leno's office.
AB 1668 would allow greater public access to documents created by state agencies by requiring open file formats for all electronic government documents, according to Leno's office.
The bills are expected to be heard in committee in April, Velayas said.
Copyright © 2007 by Bay City News, Inc. -- Republication, Rebroadcast or any other Reuse without the express written consent of Bay City News, Inc. is prohibited.
####