San Francisco Bay shark habitat to get $1.5 million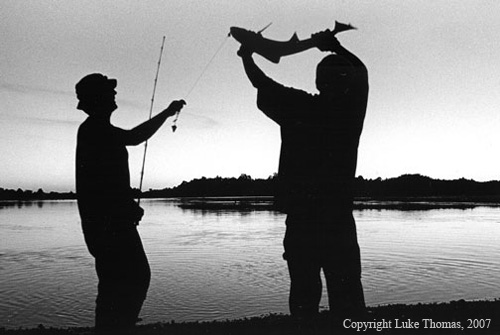 Fisherman near Stinson Beach inadvertantly catch a bottom feeding leopard shark. The edible triakis semifasciata was safely returned to the shallow bay unharmed.
Photo(s) by Luke Thomas
By Matt Wynkoop, Bay City News Service

February 14, 2007
The U.S. Attorney's Office announced Tuesday that $1.5 million in funds have been assembled for California leopard shark habitat restoration in the San Francisco Bay.
The announcement comes in the wake of a widespread Federal investigation that led to the July indictment of several members of a San Leandro church who were convicted for spearheading a Bay Area-based international leopard shark poaching operation.
According to United States Attorney Kevin Ryan, the money will come from a partnership formed to rehabilitate the affected San Francisco Bay habitats through local donations and restitution payments from the convicted poachers.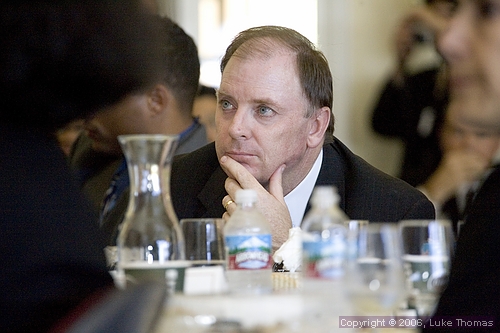 United States Attorney Kevin Ryan

Ryan said $910,000 has been assembled from payments by San Leandro-based Bay Area Family Church, restitution by the church's pastor, Kevin Thompson, and five other criminal defendants who were involved in the operation.
The involved individuals poached thousands of California leopard sharks from the San Francisco Bay over a period of more than ten years, according to Ryan.
Thompson - who is slated to pay $100,000 in restitution - led the scheme from 1992-2004. Members of Thompson's church used church vessels to illegally harvest undersized sharks from the bay and then sell the sharks throughout the United States and abroad, Ryan reported.
Ryan reported that the Holy Spirit Association for the Unification of World Christianity, which includes Bay Area Family Church, would dole out $500,000 of the $910,000 in restoration funds.
"The prosecution of this case casts a bright light on the dark world of illegal worldwide trading in protected wildlife,'' said Paul Chang,
Special Agent in charge of the U.S. Fish and Wildlife Service Office of Law Enforcement.
In addition, $300,000 from the California Coastal Conservancy and $300,000 through the combined contributions of the David and Lucile Packard Foundation, the William and Flora Hewlett Foundation and the Gordon and Betty Moore Foundation were designated Tuesday for the planned habitat restoration.
The investigation into the poaching operation began in Miami in 2003, when a pet trade distributor was caught with 18 undersized leopard sharks from California, Ryan reported.
The investigation eventually led back to the Bay Area.
California leopard sharks area commonly found in ocean waters along the Oregon, California and Baja Mexico coasts. The sharks were afforded extra protection under state law in 1994 when the Department of Fish and Game put a commercial fishing limit of 36 inches on the species.
Copyright © 2007 by Bay City News, Inc. -- Republication, Rebroadcast or any other Reuse without the express written consent of Bay City News, Inc. is prohibited.
####