California lethal injection hearing concludes
Fogel to issue ruling in November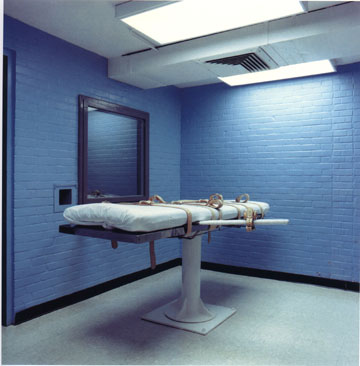 Photo courtesy Death Penalty Information Center
By Jason Bennert, Bay City News Service
September 29, 2006
SAN JOSE (BCN) - The federal judge who effectively halted executions in California early this year today promised to issue a decision in early November as to whether or not the state's modified lethal injection procedure is constitutional.
U.S. District Court Judge Jeremy Fogel heard three-and-a-half days of testimony this week about California's three-drug lethal injection procedure. The attorneys for the state and for condemned inmate Michael Morales will have to submit further written arguments before Fogel issues his decision.
"I'm determined to get a decision out as soon after November 1st as possible,'' Fogel said.
As he did at the start of the hearing, Fogel cautioned the public that his decision would only cover the constitutionality of California's specific procedure and not broader questions about lethal injection or capital punishment.
"There are a lot of issues that swirl around this case - how people feel about the death penalty, the rights of victims, victims' families - all of which are very important, but the court has a very specific job to do,'' Fogel said.
The attorneys for Morales have challenged the procedure, claiming that as an example of "cruel and unusual punishment'' it is unconstitutional because of the possibility that the condemned inmate would feel excruciating pain from the drugs used in the procedure.
In the proposed procedure sodium thiopental, an anesthetic, would first be injected into the inmate intravenously to render the inmate unconscious. A second drug, pancuronium bromide, which paralyzes the muscles, would then be injected followed by the final drug potassium chloride, which stops the heart.
Attending today's hearing was celebrity lawyer Gloria Allred, who represents the mother of Terri Winchell, the 17-year-old Lodi girl Morales raped and murdered in 1981. Allred said it is important to remember the crimes Morales committed that put him on death row.
"The murderer did not care for his victim, a teenager, as she suffered,'' Allred said. "He intentionally inflicted unspeakable pain as he hammered her skull 23 times with a claw hammer.''
Winchell's mother, Barbara Christian, was upset by the amount of time devoted to whether or not Morales would feel excruciating pain during the lethal injection procedure.
"I am very angry that they are concerned that for five to seven minutes he might be aware,'' Christian said.
Copyright © 2006 by Bay City News, Inc. -- Republication, Rebroadcast or any other Reuse without the express written consent of Bay City News, Inc. is prohibited.

####