Judge refuses Schwarzenegger request
for lethal injection secrecy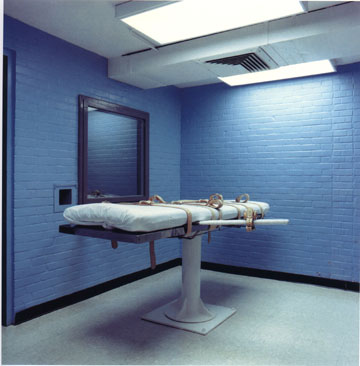 Photo courtesy Death Penalty Information Center
By Jason Bennert, Bay City News Service

February 24, 2007
SAN JOSE (BCN) - A federal judge Friday refused to grant a request by Governor Arnold Schwarzenegger's office for a broad order that could have shrouded in secrecy the process of developing California's new lethal injection procedure.
The Schwarzenegger administration filed a motion last month seeking to keep its formulation of a new lethal injection procedure confidential.
"The review of the lethal injection procedure will require frank debate and candid consideration of policy alternatives,'' according to the motion.
This afternoon Fogel said it is important that the process of creating a new procedure be as open to the public as possible.
"There is an abiding interest in the transparency of the process,'' Fogel said. "There is an enormous public interest.''
State officials have to develop a new lethal injection procedure after Fogel ruled in December that California's former procedure was an unconstitutional because of the possibility that condemned inmates would feel excruciating pain during the administration of the lethal three-drug combination used in the procedure.
While Fogel made a plea for "transparency'' in the process he did not issue an order that it be entirely open to the public.
Karl Olson, the attorney representing a number of the state's major newspapers, said there is a good possibility that the Schwarzenegger Administration will oppose media requests for public records relating to the formulation of a new lethal injection procedure.
"It probably leaves to another day what are likely to be some disagreements,'' Olson said.
"(The Schwarzenegger Administration) have basically said we're going to roll out a final product and that's all we want you to see.''
Fogel agreed with Olson that any disagreements over public records requests would have to be decided in state court and not by him.
The governor's office has told Fogel that will propose a new lethal injection procedure by May 15 for his approval.
Fogel ruled California's lethal injection procedure unconstitutional after a challenge by attorneys for condemned killer Michael Morales.
Morales, 46, was sentenced to death in 1983 for the 1981 rape and murder of Lodi teenager Terri Winchell. He was mere hours away from execution in February 2006 when Fogel effectively halted all executions in California because of concerns about the state's lethal injection procedure. Since then a total of 11 states have put a hold on lethal injection executions because of concerns about the Constitutionality of the procedure.
Copyright © 2007 by Bay City News, Inc. -- Republication, Rebroadcast or any other Reuse without the express written consent of Bay City News, Inc. is prohibited.
####