Lockyer asks California hight court to hear same-sex marriage cases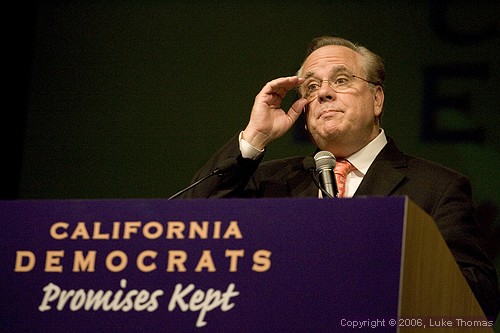 California Attorney General Bill Lockyer.
Photo(s) by Luke Thomas
By Julia Cheever, Bay City News Service

December 5, 2006
SAN FRANCISCO (BCN) - In an unusual step, California Attorney General Bill Lockyer has asked the state Supreme Court to review a ruling that Lockyer won in a lower court banning same-sex marriages.
Lockyer wrote in a brief filed with the high court in San Francisco Monday, "We believe a decision by this court would provide the greatest level of certainty, uniformity and finality in these matters."
The brief says, "The constitutionality of statutes limiting marriage to male-female unions constitutes an important question of law that should be reviewed by California's highest court."
In October, Lockyer's office, which has been defending state marriage laws, won a ruling from the California Court of Appeal upholding laws that require requiring marriage to be between a man and a woman.
Last month, that decision was appealed to the state Supreme Court by the city of San Francisco and 19 gay and lesbian couples who filed a total of four lawsuits seeking a right to same-sex marriage in California.
Normally, the party that wins an appellate ruling asks the state high court not to hear the case and instead to leave the intermediate ruling in place.
The California Supreme Court hears only a small percentage of the cases appealed to it. If the panel does not choose to take up an appeal, the Court of Appeal ruling becomes the final state ruling on the case.
Lockyer spokesman Nathan Barankin said the attorney general has consistently stated that a ruling from the high court is necessary because the issue is one of extreme importance and interest.
Lockyer has argued that it is reasonable for lawmakers to limit marriage to opposite-sex couples while providing the same rights and protections to same-sex couples through domestic partnerships.
Same-sex couples contend that being denied the right to marry violates their California constitutional right to equal treatment.
The state high court has no deadline for deciding whether to review the same-sex marriage cases. If it does agree to consider the appeal, its decision will be due 90 days after all briefs are filed and a hearing has been held.
Copyright © 2006 by Bay City News, Inc. -- Republication, Rebroadcast or any other Reuse without the express written consent of Bay City News, Inc. is prohibited.

####