Pelosi appoints Woolsey
to House Foreign Affairs Committee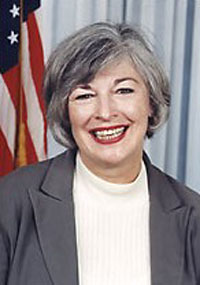 U.S. Rep. Lynn Woolsey
California 6th District
Photo courtesy NNDB.com
By James Lanaras, Bay City News Service

January 12, 2007
House Speaker Nancy Pelosi, D-San Francisco, has appointed Rep. Lynn Woolsey, D Petaluma, to the House Foreign Affairs Committee.
Woolsey has been a leading critic of the war in Iraq. She said she looks forward to strengthening the country's commitment to diplomacy and international development and an approach to national security that includes international development programs for impoverished nations.
Woolsey also serves as a member of the House Committee on Education and Labor and the Committee on Science and Technology.
Copyright © 2006 by Bay City News, Inc. -- Republication, Rebroadcast or any other Reuse without the express written consent of Bay City News, Inc. is prohibited.

####