Tanker explosion collapses section
of MacArthur Maze interstate connector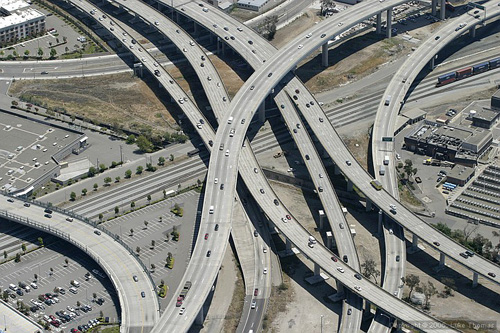 A section of eastbound Interstate Highway 80 to eastbound Interstate Highway 580 collapsed this morning following a gas tanker explosion. File photo.
Photo(s) by Luke Thomas
By Julia Cheever

April 29, 2007
A tanker carrying unleaded gasoline exploded early this morning, causing 250 yards of roadway to collapse near Emeryville. The driver walked away from the incident and took a taxi to a nearby hospital where he is being treated for second-degree burns, according to the California Highway Patrol.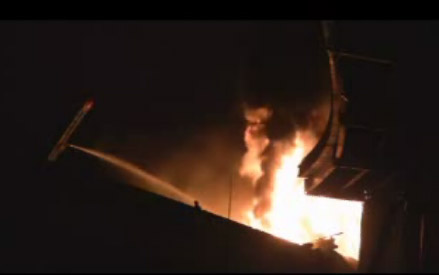 Firefighters have arrrived on the scene and are battling the blaze
that melted a section of I-580 to I-80 interstate connector leading to its collapse.
YouTube video screenshot courtesy baconmonkey.
California Highway Patrol officer Trenton Cross said he believed speed was a factor in the tanker crash, which caused roadway on Interstate Highway 580 at Interstate Highway 80, located near Emeryville to be completely destroyed. The tanker explosion caused the upper deck of a connector ramp to collapse onto the lower deck, according to a California Highway Patrol dispatcher.
Interstate Highway 580 is closed approaching the San Francisco Bay Bridge, according to the dispatcher.
The dispatcher said eastbound Interstate Highway 80 to eastbound Interstate Highway 580 collapsed after heat from the tanker explosion on the westbound Interstate Highway 580 at Interstate Highway 80 rose and melted the upper roadway.
The dispatcher said traffic continues to flow on to the San Francisco Bay Bridge.
Travelers wishing to enter San Francisco from the East Bay may take Interstate Highway 80, which remains open.
The dispatcher said there is no word on when the roadway will be open, and it could be days if not months before traffic resumes as usual on this stretch of road.
Copyright © 2007 by Bay City News, Inc. -- Republication, Rebroadcast or any other Reuse without the express written consent of Bay City News, Inc. is prohibited.
####