Schwarzenegger pledges $2.5 million
for free rides on public transportation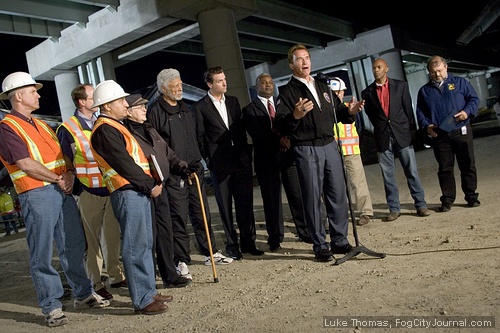 Governor Arnold Schwarzenegger is joined by Oakland Mayor Ron Dellums and San Francisco Mayor Gavin Newsom at the site of the destroyed section of the MacArthur Maze freeway interchange system. Schwarzenegger announced $2.5 million will be made available for free rides on public transportation.
Photo(s) by Luke Thomas
By Lara Moscrip

April 30, 2007
Governor Arnold Schwarzenegger toured the destroyed section of highway in Oakland's MacArthur Maze late yesterday evening and pledged that the state of emergency declared today in Alameda, Contra Costa and San Francisco counties will be used to cut red tape in order to get traffic flowing again.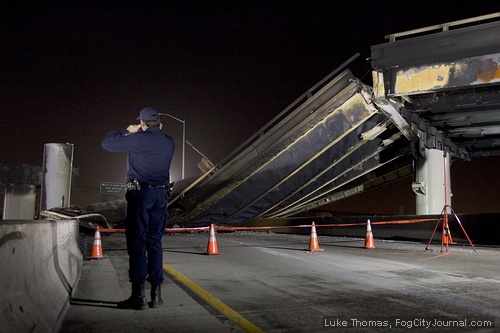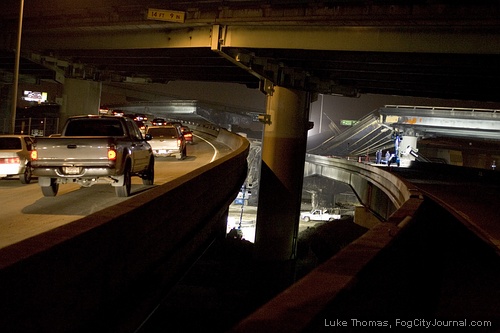 As part of the emergency declaration, the state will reimburse local public transportation agencies, including Bay Area Rapid Transit, AC Transit, Santa Clara Valley Transportation Authority and San Francisco Municipal Transportation Agency, the $2.5 million it will cost to give rides away for free on Monday.
Schwarzenegger also praised the work of a local wreckage company that has already started to take parts of the destroyed roadway.
Oakland Mayor Ron Dellums said that once a thorough analysis of the situation is in place, a plan will go forward with the goals of safety and efficiency in mind.
"We're all in one in being grateful that no human life was lost in this situation," he said.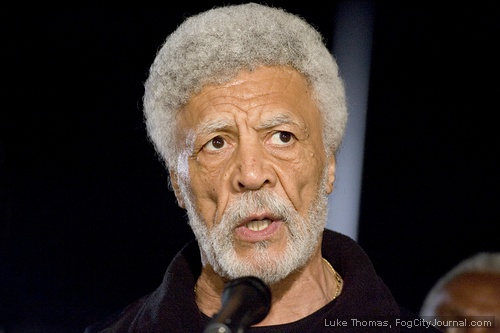 Oakland Mayor Ron Dellums
Dellums said that as of now, people will need to seek other ways to get to work, find carpools and use public transportation. "Our hope is people will be patient, that they'll deal with each other with dignity and patience," he said.
San Francisco Mayor Gavin Newsom also spoke and said that local and state authorities can do as well or better in repairing the current devastation as the quick rebuilding of bridges and roads that occurred following the 1994 Northridge earthquake.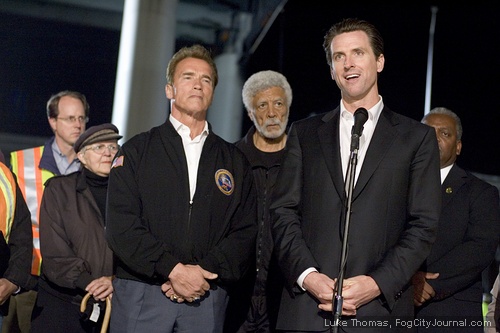 Mayor Gavin Newsom
However, he said that it's going to be a difficult time for the upcoming days, weeks and even months.
As an example of progress, Newsom noted that while there is normally only one ferry making 13 trips between Alameda, Oakland and San Francisco, on Monday there will be 4 ferries making 52 total roundtrips during peak commute hours. Muni, which normally runs 70 lines at peak commute time, will run 79 lines on Monday.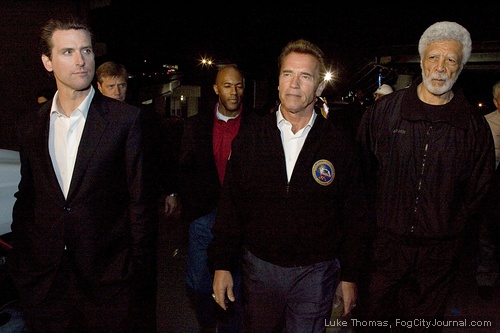 Copyright © 2007 by Bay City News, Inc. -- Republication, Rebroadcast or any other Reuse without the express written consent of Bay City News, Inc. is prohibited.
####