Governor says MacArthur Maze connector
will open in less than 10 days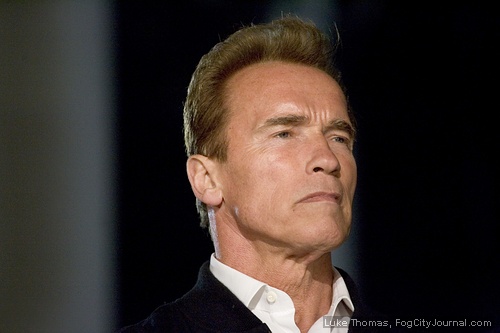 Gov. Arnold Schwarzenegger
Photo(s) by Luke Thomas
By Jeff Shuttleworth

May 3, 2007
Gov. Arnold Schwarzenegger announced yesterday that the damaged connector from Interstate Highway 80 to Interstate Highway 880 in the MacArthur Maze in Emeryville will be fully open to traffic within 7 to 10 days.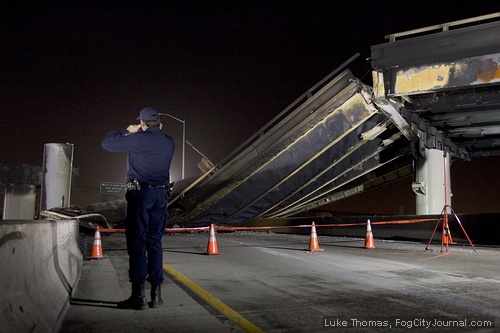 Speaking at a news conference in Sacramento, Schwarzenegger said engineers have determined that the lower deck that bore the brunt of the collapse can be repaired and does not have to be scrapped and rebuilt.
In an effort to further speed repairs, the governor issued a directive to the California Department of Transportation to use incentive-based contracts.
According to a press release issued by his office, Schwarzenegger told reporters, "Progress on repairing the collapsed freeway connectors is moving at lightning speed. By creating immediate action and cutting the red tape, traffic will flow sooner, so we can move goods and people and protect California's economic power."
Schwarzenegger said, "I thank all of the state agencies and local partners for their quick response and I also appreciate the patience of Bay Area motorists during the repairs."
The explosion early Sunday morning collapsed a section of Interstate Highway 580 near Oakland onto a lower deck, which was the Highway 80 to Highway 880 connector ramp below, causing the worst Bay Area transportation disaster since the 1989 Loma Prieta earthquake.
If all goes according to plan, the two-lane Highway 880 connector ramp will only have been closed for 15 days or less since following the fiery tanker-truck crash.
Caltrans and its contractors have been working under an emergency declaration issued by the governor to restore the structure after the crash.
Similar to the Interstate Highway 10 work following the 1994 earthquake in Northridge, Caltrans said it will use an informal bid process to obtain a contractor to replace the Highway 580 span lost in the fire. Schwarzenegger has also directed Caltrans to use an incentive-based contract so the work can be done as quickly as possible.
In addition, Caltrans will notify all potential bidders that small businesses must be considered in their work. The contract is likely to be awarded by May 9.
The governor also announced that the state was told late Tuesday by the Federal Highway Administration that the repair work to get the ramps open to traffic has been qualified for federal emergency relief funding.
Caltrans Director Will Kempton said the estimate for the cost of the initial ramp work is $8 million.
Although the work to get the facility open to traffic is eligible for federal emergency relief funding, Kempton cautioned that other collateral work included in that same estimate may not be, so he's continuing to talk to the FHA to seek additional reimbursement.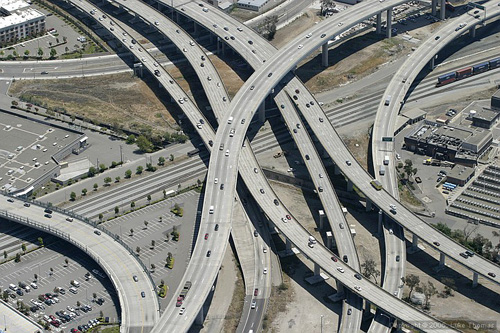 Copyright © 2007 by Bay City News, Inc. -- Republication, Rebroadcast or any other Reuse without the express written consent of Bay City News, Inc. is prohibited.
####