I-80 connector to I-880 reopens
after eight days of closure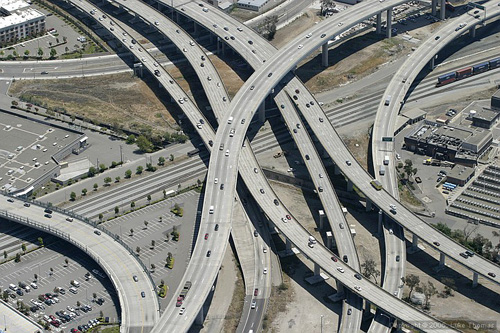 The damaged section of the I-880 MacArthur Maze interstate connector was reopened
to traffic in both directions this morning.
Photo(s) by Luke Thomas
Bay City News

May 7, 2007
Both lanes of the westbound Interstate 80 connector to southbound Interstate 880 in Oakland re-opened today and traffic is moving smoothly, according to a California Highway Patrol dispatcher.
This comes after a gas tanker explosion caused a portion of the interchange to collapse eight days ago.
According to a California Highway Patrol dispatcher, the roadway re-opened at 4:19 a.m., well before its expected opening at 5 a.m.
Caltrans officials warn that intermittent closures of the southbound I-880 connector will be required as crews continue to work toward reconstructing the collapsed portion of I-580.
Reconstruction bids for the I-580 reconstruction are due by 10 a.m. today, and officials are expected accept a low-bid offer sometime tonight. Construction on the I-580 reconstruction project should begin Tuesday morning.
The contracted company will be awarded an incentive of $200,000 a day for every day the project is finished ahead of the 50-day benchmark according to Caltrans Director Will Kempton.
If the project takes longer than 50 days, $200,000 will be subtracted from the tab each day. Final preparations for the opening of the connector were made Sunday, according to Caltrans.
On Sunday, Governor Arnold Schwarzenegger thanked Caltrans crews for working "around the clock'' to ensure the connector would be ready to open today.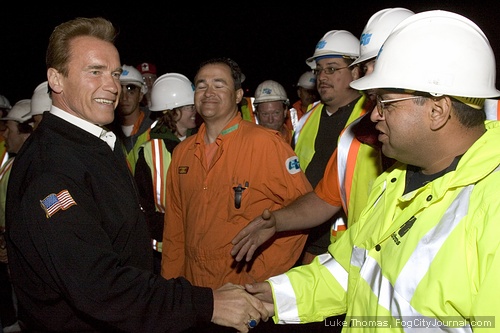 Copyright © 2007 by Bay City News, Inc. -- Republication, Rebroadcast or any other Reuse without the express written consent of Bay City News, Inc. is prohibited.
####