MacArthur Maze to re-open Friday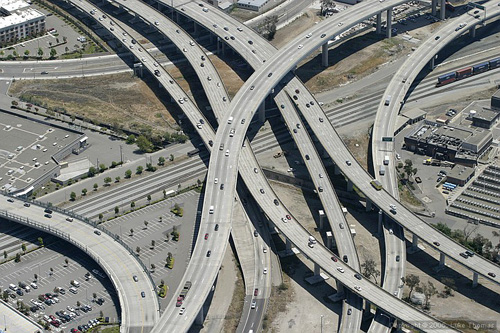 Governor Schwarzenegger announced today final repairs to the MacArthur Maze will be completed Thursday night. The freeway interchange complex will be fully functional
and reopened to traffic Friday.
Photo(s) by Luke Thomas
From the Office of Gov. Arnold Schwarzenegger

May 21, 2007
Gov. Arnold Schwarzenegger today announced that the repairs to the MacArthur Maze will be completed Thursday night and the freeway will reopen for the Friday morning commute.
"Thanks to hard, around-the-clock work of Caltrans and C.C. Myers, our local partners and businesses, Bay Area motorists can once again travel through this busy interchange," said Gov. Schwarzenegger. "Just in time for the holiday weekend, this roadway will be open in 26 days from when the accident occurred."
At 3:42 a.m. on Sunday, April 29, a gasoline tanker traveling on westbound 80 to southbound 880 toward San Jose overturned and caught fire. The intense heat caused the steel frame of the freeway to soften, and the eastbound 580 connector above collapsed onto the 880 connector, closing two major arterials in the interchange.
The Governor issued an emergency declaration on April 29 in order to begin immediate repair and replacement of the interchange in Emeryville. This declaration streamlined public contracting and permitting codes and provided emergency funding to allow repair operations to begin immediately. The emergency declaration also authorized funding to provide free transit services in the Bay Area for Monday, April 30.
The Governor toured the site that Sunday and thanked the California Highway Patrol, Caltrans, the Metropolitan Transportation Commission and local elected leaders for their immediate response to the closure. He also thanked the Red Cross and Salvation Army for their emergency response support and food provisions to workers in the field.
Cleveland Wrecking Company began immediately to demolish the damaged section of freeway, and with the help of ACC-West Coast the southbound 880 re-opened on May 7.
Working very closely and cooperatively, Caltrans and the contractor, C.C. Myers, steel suppliers from Pennsylvania and Texas, fabricators in Arizona and Tracy, California, have worked around the clock, seven days a week to rebuild this section of freeway and restore mobility for Bay Area motorists.
"I am tremendously proud of CalTrans Director Will Kempton and the whole CalTrans team. They proved that in an emergency, this agency can get the job done. I also want to thank the people of West Oakland for their patience and support during this difficult process," said Gov. Schwarzenegger.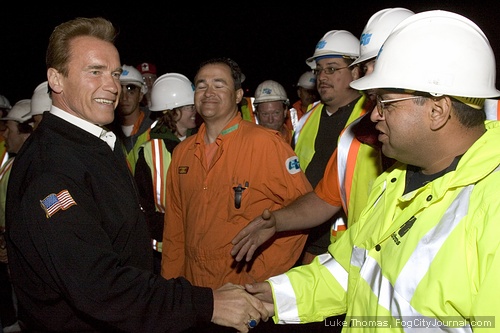 Copyright © 2007 by Bay City News, Inc. -- Republication, Rebroadcast or any other Reuse without the express written consent of Bay City News, Inc. is prohibited.
####