Former McAfee CFO convicted of securities fraud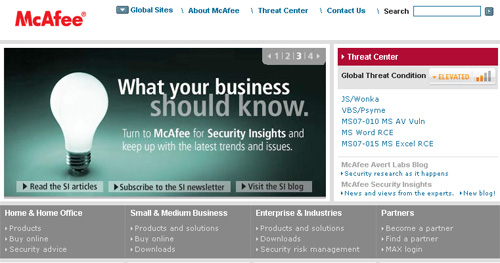 Screen shot courtesy McAfee, Inc.
By Julia Cheever

May 11, 2007
A former chief financial officer of McAfee Inc. of Santa Clara was convicted by a federal jury in San Francisco yesterday of 15 counts related to securities fraud.
Prabhat Goyal, 52, of Los Altos, was chief financial officer of the computer security company from December 1997 to January 2001. At the time, the company was called Network Associates Inc. It changed the name to McAfee in 2004.
U.S. Attorney Scott Schools said the 15 counts included securities fraud, filing false reports with the U.S. Securities and Exchange Commission and making false statements to auditors.
Goyal was indicted by a federal grand jury in 2004 on a total of 20 counts. The indictment alleged he schemed with others to understate company losses by $330 million between 1998 and 2000 through manipulation of financial statements.
Five of the charges, including a conspiracy count, were dropped by federal prosecutors before the jury trial, which lasted five weeks in the court of U.S. District Judge Martin Jenkins.
The judge will set a sentencing date at a July 27 hearing on post-trial motions on July 27.
Each count carries a possible maximum of 10 years in prison, but the actual penalty will be determined after consideration of U.S. sentencing guidelines.
Last year, McAfee agree to pay $50 million in penalties to settle a civil fraud lawsuit filed by the Securities and Exchange Commission, which alleged the company inflated its net revenue by $622 million between 1998 and 2000.
In a separate case, former McAfee general counsel Kent Roberts, 50, of Dallas, is awaiting trial in federal court in San Francisco on seven criminal charges related to alleged backdating of stock options for himself in 2000 and former chief executive George Samenuk in 2002.
Copyright © 2007 by Bay City News, Inc. -- Republication, Rebroadcast or any other Reuse without the express written consent of Bay City News, Inc. is prohibited.
####