Former McAfee counsel indicted
in stock option backdating case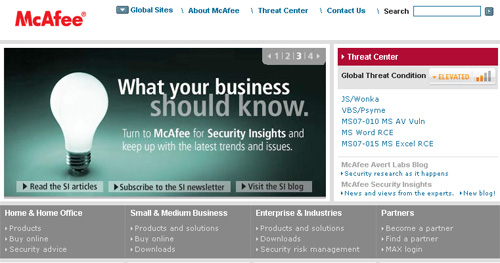 Screen shot courtesy McAfee, Inc.
By Julia Cheever, Bay City News Service

February 28, 2007
SAN FRANCISCO (BCN) - The former general counsel of McAfee Inc., a computer security company based in Santa Clara, was indicted by a federal grand jury in San Francisco Tuesday on seven charges related to allegedly fraudulent backdating of stock options.
Kent Roberts, 50, of Dallas, is scheduled to be arraigned before a federal magistrate in San Francisco on Thursday.
He is accused in the indictment of changing the dates of stock option grants in 2000 and 2002. The company was known as Network Associates at the time.
Roberts was fired by the company's board of directors last May 30.
The company said that in a review of grants of employee stock options, it had found one "improper episode" involving Roberts in 2000.
The case is part of a nationwide U.S. Justice Department probe of possible backdating of options by 80 companies.
The first people to be charged in the investigation were two former executives of San Jose based Brocade Communications Systems Inc. last summer.
Backdating of an option to buy a company's stock enables employees to buy stock at a lower price and thus at a higher profit. Backdating in itself is not illegal, but making false statements about it is.
Roberts was charged with two counts of mail fraud, one count of wire fraud, three counts of filing false statements with the U.S. Securities and Exchange Commission, and one count of falsifying the records of Network associates.
Scott Schools, the new U.S. attorney for Northern California, said, "It is integral to the public trust in our financial markets that transactions affecting a company's financials are recorded honestly, particularly by those who are responsible for regulatory compliance."
Roberts's attorney, Stephen Neal of Palo Alto, issued a statement saying, "We intend to vigorously defend the charges against Mr. Roberts but have no further comment at this time."
Copyright © 2007 by Bay City News, Inc. -- Republication, Rebroadcast or any other Reuse without the express written consent of Bay City News, Inc. is prohibited.
####