Former McAfee lawyer pleads innocent
in backdating case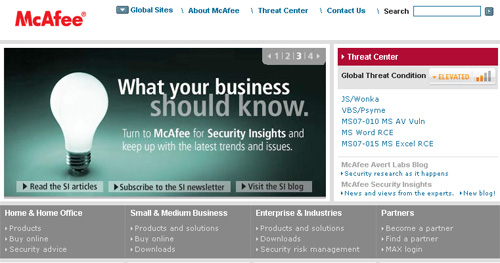 Screen shot courtesy McAfee, Inc.
By Julia Cheever, Bay City News Service

March 1, 2007
SAN FRANCISCO (BCN) - The former general counsel of McAfee Inc. pleaded not guilty in federal court in San Francisco today to seven criminal charges related to the backdating of stock options for the Santa Clara-based computer security company.
U.S. Magistrate Joseph Spero allowed Kent Roberts, 50, of Dallas, to remain free on a $1 million unsecured bond based on property Roberts owns in Texas.
Roberts was ordered to appear Monday before U.S. District Judge Marilyn Patel, the judge who will preside over his trial, for the setting of future court dates.
He is accused in an indictment issued Tuesday of changing dates for a stock option grant for himself in 2000 and for the company's chief executive officer in 2002. At the time he worked for Network Associates, which later merged with McAfee.
Roberts was fired as McAfee's top lawyer last May.
The seven criminal charges include mail fraud, wire fraud, falsifying company board minutes and filing false statements before the Securities and Exchange Commission.
Backdating an option to buy company stock is not illegal in itself, but it is illegal to make false statements in government and company records about the practice.
Roberts's lawyer, Stephen Neal, has said Roberts's attorneys will "vigorously defend" Roberts against the charges.
Outside of court today, Neal said Roberts never exercised the stock option that was backdated in 2000. Neal said, "The story is much more complicated than the indictment would suggest."
The case is part of a nationwide U.S. Justice Department probe of possible backdating by corporate executives.
In a related case, the SEC filed a civil fraud lawsuit against Roberts in Washington D.C. on Wednesday.
The civil suit alleges that the backdating increased the potential value of the stock options for Roberts by nearly $200,000 and for former chief executive George Semanuk by more than $700,000.
Copyright © 2007 by Bay City News, Inc. -- Republication, Rebroadcast or any other Reuse without the express written consent of Bay City News, Inc. is prohibited.
####