Residents say no to McGoldrick recall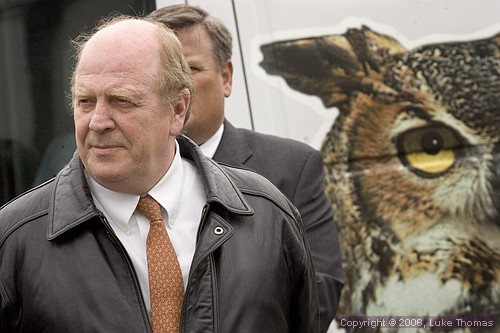 Supervisor Jake McGoldrick has been the subject of a special interest recall
which has failed to produce the the number of required signatures
from residents of District 1 to effect a recall.
Photo(s) by Luke Thomas
By Tamara Barak

June 26, 2007
A spokesman for the group working to oust San Francisco Supervisor Jake McGoldrick said he still hopes to gather enough signatures to put the recall on the November ballot, but concedes that the matter will more likely wait until February.
"The recall is definitely on. It's unknown whether it's going to be on the Nov. 6 ballot or the Feb. 5 ballot," said Paul Kozakiewicz, a spokesman for Richmond Deserves Better.
The group failed to collect the roughly 3,700 valid signatures it needed to meet the San Francisco Department of Elections' June 22 deadline that would allow enough time for McGoldrick's attorneys or supporters to file a challenge.
However, the recall could still appear on the November ballot if organizers submit their signatures by July 9 and McGoldrick's backers decide not to challenge the authenticity of the signatures or the validity of the reasons for the recall.
Kozakiewicz, who publishes The Richmond Review, acknowledged that McGoldrick's attorney would likely file a challenge and the recall would be automatically pushed to the February ballot.
"He's in office until January, 2009, so we're fine with that. We want to give the people a vote," Kozakiewicz said.
Kozakiewicz said his group has gathered between 2,000 and 2,500 signatures so far.
"Nothing has failed, nothing is done," he said.
Richmond Deserves Better claims McGoldrick, who has represented the Richmond District since 2000, is quick to increase taxes, refuses to meet with his constituents, and doesn't care about the concerns of small business owners.
Recall supporters also say McGoldrick's legislation for Saturday road closures in Golden Gate Park went against the will of voters in the Richmond District. They also accuse the supervisor of forcing a Bus Rapid Transit (BRT) plan onto the neighborhood without consulting Geary Street merchants who would be affected by the construction.
San Francisco Firefighters, the San Francisco Democratic Central Committee and State Sen. Leland Yee have all spoken out against the recall as unfounded and wasteful.
A separate group working to recall Supervisor Aaron Peskin had their bid to oust the board president rejected by the Department of Elections on June 11.
Copyright © 2007 by Bay City News, Inc. -- Republication, Rebroadcast or any other Reuse without the express written consent of Bay City News, Inc. is prohibited.
####