Sen. Migden gets probation for reckless driving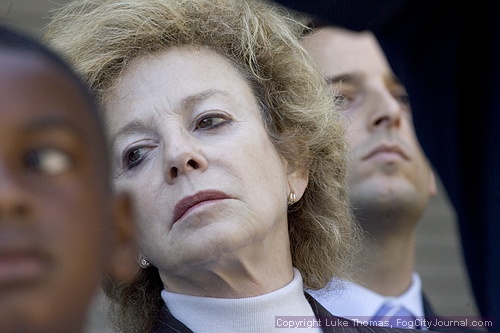 District 3 Senator Carole Migden was sentenced this morning to two years summary probation for a reckless driving incident in May.
Photo(s) by Luke Thomas
By James Lanaras
August 10, 2007
State Sen. Carol Migden was sentenced this morning in Solano County Superior Court to two years summary probation for a reckless driving incident in May, the Solano County District Attorney's Office said.
The San Francisco Democrat pleaded no contest to the misdemeanor reckless driving charge that was filed this morning and was also assessed $710 in fees and fines, the district attorney's office said.
Migden, 58, did not appear in court. The plea was entered by her Ukiah attorney Ann Moorman. Migden must also be formally booked, then released from the Solano County Jail by Oct. 9.
The Solano County District Attorney's Office said under summary probation, the defendant is not required to report regularly with the county probation office.
The California Highway Patrol had recommended Migden be charged with reckless driving causing bodily injury.
The CHP said Migden's 2007 Toyota Highlander collided with a Honda that had stopped on Beck Avenue at state Highway 12 in Fairfield injuring a Vallejo woman May 18.
The CHP also said Migden's vehicle hit a guardrail on Interstate Highway 80 in Fairfield before that crash.
Migden later revealed she has been taking medication to fight leukemia and that might have contributed to her behavior.
Copyright © 2007 by Bay City News, Inc. -- Republication, Rebroadcast or any other Reuse without the express written consent of Bay City News, Inc. is prohibited.
####