Federal appeals court orders resentencing
for Millenium Bomber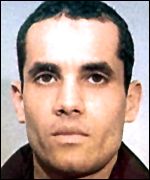 Ahmed Ressam
Photo courtesy Wikipedia.com
Bay JuliaCheever, City News Service

January 16, 2007
SAN FRANCISCO (BCN) - A federal appeals court in San Francisco today ordered a resentencing for a man known as the "Millennium Bomber" for a foiled plot to bomb LosAngeles International Airport on New Year's Eve 1999.
Ahmed Ressam, 39, an Algerian citizen who moved to Canada, trained at an Al Qaeda camp in Afghanistan in 1998 and early 1999.
He was caught trying smuggle bomb-making materials on a ferry from British Columbia, Canada, to Port Angeles, Washington, on Dec. 14, 1999.
Ressam was convicted in a federal trial in 2001 of nine counts, including smuggling explosives and an act of cross-border terrorism. He was sentenced by a federal judge in Seattle in 2005 to 22 years in prison.
After being convicted and before being sentenced, Ressam cooperated with investigators for about two years, but stopped providing information in 2003.
Federal prosecutors, who had sought a 35-year sentence because Ressam stopped cooperating, appealed for a heavier sentence and Ressam appealed his conviction on one of the nine counts.
The U.S. Circuit Court of Appeals granted Ressam's appeal on that count and overturned his conviction on a charge of carrying explosives while committing the felony of signing a false customs declaration. The court said the explosives were not related to the false document.
The panel didn't rule on prosecutors' bid for a stiffer sentence but instead sent the case back to U.S. District Judge John Coughenour for resentencing in the remaining eight counts.
Circuit Judge Pamela Rymer wrote, "We prefer to leave it in the first instance to the district court to arrive at an appropriate sentence on the remaining counts of conviction.''
The appeals court said federal sentencing law is currently in flux and said Coughenour could delay the resentencing until after the Supreme Court and 9th Circuit clarify the law in several pending cases. The cases concern a 2005 Supreme Court ruling that made U.S. sentencing guidelines advisory instead of mandatory.
Emily Langlie, a spokesperson for the U.S. attorney's office in Seattle, said, "We're studying the ruling." She said prosecutors will determine whether to seek a rehearing before an expanded appeals panel.
Assistant Federal Public Defender Michael Filipovic of Seattle said defense attorneys are reviewing the ruling and had no immediate comment.
Copyright © 2007 by Bay City News, Inc. -- Republication, Rebroadcast or any other Reuse without the express written consent of Bay City News, Inc. is prohibited.

####