Tripling of Mission District street sweepers opposed
By Emmett Berg and Tamara Barak, Bay City News Service

January 31, 2007
SAN FRANCISCO (BCN) - The Board of Supervisors in San Francisco went on record today in support of one legislator's call for reconsideration of a new policy tripling street sweeping operations in the Mission District.
Supervisor Tom Ammiano said he supports ramped-up efforts to reduce garbage and graffiti in the area, but street sweepers in the Mission three days a week was too much, he said.
"Our constituents have made it abundantly clear that while everyone wants to live in a clean environment, should a three-fold increase in street cleaning be implemented the net result will be a lowered quality of life for affected residents," Ammiano stated in the text of a non binding resolution passed by the Board of Supervisors.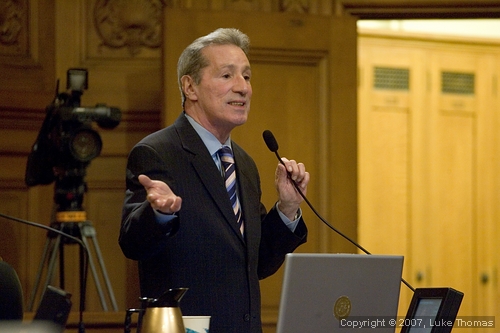 Supervisor Tom Ammiano
"Increased street cleaning does not address the principal concerns around environmental cleanliness" in the district Ammiano represents, he said.
The motion was directed toward the Department of Public Works. Mohammed Nuru, deputy director of the Public Works Department, said the Mission District is "one of our toughest routes."
"It's a much denser neighborhood and it's very populated. The material coming out on the streets is much more than we normally pick up," he said, adding that the neighborhood requires more routine cleaning to keep garbage from falling into the city's sewer system.
Complaints about debris in the street have increased 18 percent from 2005 to 2006, Nuru said.
"We also have seen a tremendous increase in tonnage being picked up - 270 percent between '05 and '06," Nuru said. "Our sweepers are never able to complete a route. Other sweepers are called for backup because of the amount of material being picked up."
Illegal dumping in the area has doubled over the past year, Nuru said.
Public works officials are putting together a proposal to address the problem.
"The backbone of keeping the city clean is mechanical street cleaning, but we're also looking into the bad behavior of illegal dumpers, an educational campaign targeted at the neighborhood, and working with the garbage company and coordinating garbage pickup on street cleaning days," Nuru said.
Increasing mechanical street cleaning "is not a done deal" and the Department of Public Works is planning to hold public forums for residents.
"We're looking into the concerns being voiced and we're going to see what we can do to resolve the need for cleaning in the area," Nuru said.
The first public forum will be held Wednesday at 9 a.m. and another is scheduled for Feb. 7, also at 9 a.m. Both will be held in room 400 of San Francisco City Hall.
Copyright © 2007 by Bay City News, Inc. -- Republication, Rebroadcast or any other Reuse without the express written consent of Bay City News, Inc. is prohibited.

####