Services planned for popular Tenderloin man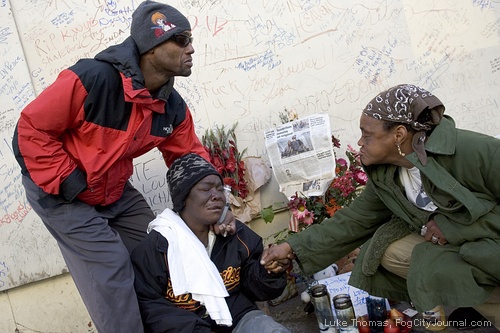 Linda Thomas (center) is consoled by friends following the death of her husband, Monty "Skateboard" Holmes. Holmes, who lost his legs in a train accident when he was 5, was killed in a crosswalk by a mail truck, Tuesday.
Photo(s) by Luke Thomas
By Brent Begin

April 26, 2007
The family of a popular San Francisco figure, Monty "Skateboard" Holmes, was shocked to learn recently that he had died while rolling across a busy street South of Market.
Holmes, 48, made his home on the streets of the Tenderloin District and oftentimes made the trek to AT&T Park to panhandle among baseball fans. Having lost his legs in a train accident when he was five years old, Holmes got around on a skateboard, pushing with his arms.
According to his family, he's moved around that way for over 40 years.
"He got around, especially well for someone on a skateboard," said his daughter Monica Holmes. "He took care of me and my little sister. He raised us and he did really well for a handicapped man."
The U.S. Postal Service semi-truck that killed Holmes was traveling northbound on Third Street and was making a right turn on Townsend Street when the collision occurred, according to police Sgt. Neville Gittens.
Emergency personnel were called to the intersection at about 12:40 p.m.
According to Gittens, the driver stopped after the incident and police have not filed any charges. Gittens said Holmes was in the crosswalk when he was hit.
His grandmother said she learned of his death today.
"I want people to understand that he was a great guy," said Pearlean Holmes, who added that despite living on the streets, her son kept his spirits high. "He was happy. He would drink but he would quit every once in a while and it didn't make him a mean man."
He was very well known, and he had a lot of friends, she added. He also had three brothers in southern California. The family expects those friends to come together to remember him next week.
Donations for services can be sent to the Fuller Funeral Home in Oakland where friends and family plan to gather next Wednesday. The services are scheduled to begin at 6 p.m.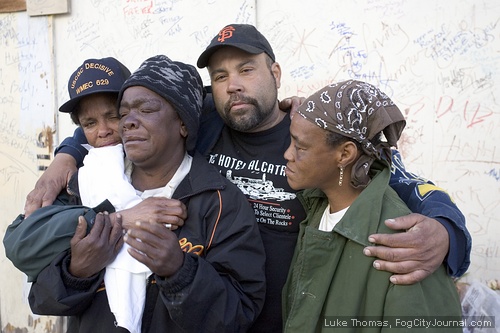 Copyright © 2007 by Bay City News, Inc. -- Republication, Rebroadcast or any other Reuse without the express written consent of Bay City News, Inc. is prohibited.
####