San Francisco gun violence continues unabated
One shot to death, two injured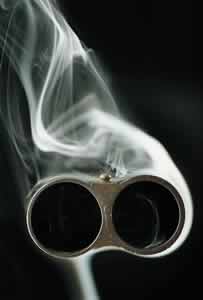 Bay City News
July 10, 2007
Amid Mayor Gavin Newsom's decree of 'progress' in gun control legislation proposed for San Francisco, one person was killed and two others suffered life threatening injures in two separate shootings yesterday.
The first shooting was reported at around 3:15 p.m. at the intersection of Third Street and LaSalle Avenue in Bayview, San Francisco police Sgt. Steve Mannina said.
Two victims were shot while inside a blue sedan. The driver of the blue sedan, a 19-year old from San Francisco, was killed, Mannina said. The second victim, a 15-year-old from Richmond, was transported to San Francisco General Hospital with life threatening injuries.
The shots apparently came from one or two men in a white sedan, which sped away after multiple rounds were fired.
The victim's vehicle continued eastbound on LaSalle and collided with another vehicle, whose driver was not involved in the shooting, according to Mannina. The driver suffered injuries that were not life threatening, he said.
A second shooting was reported just before 6 p.m. at Thrift Street and Plymouth Avenue.
A victim was chased down on foot and shot after a gun fight that apparently began in a car, Mannina said. The victim was brought to San Francisco General with life threatening injuries, he said.
No suspects have been arrested in either shooting, Mannina said.
The shootings occurred on the same day Newsom's proposed gun control measures had passed through the San Francisco Board of Supervisors' public safety committee.
According to statistics provided by the mayor's office, the number of patients admitted to San Francisco General Trauma Center for gunshot injuries rose from 81 in 2001 to 228 in 2006.
Copyright © 2007 by Bay City News, Inc. -- Republication, Rebroadcast or any other Reuse without the express written consent of Bay City News, Inc. is prohibited.
####