City leaders promise to improve MUNI service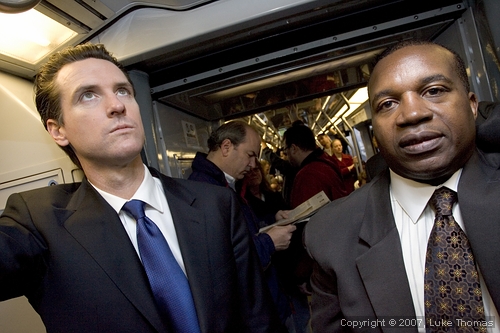 Searching for answers, Mayor Gavin Newsom and SFMTA Director Nathaniel Ford
promised Wednesday to make major changes to improve the city's public transit system.
Photo(s) by Luke Thomas
By Brent Begin, Bay City News Service

April 12, 2007
SAN FRANCISCO (BCN) - Three of San Francisco's top officials promised yesterday to make major changes in the city's beleaguered public transit system, citing safety, reliability and on time performance as priorities.
With passengers experiencing major rush hour delays and at least three recent pedestrian deaths, the Municipal Transportation Agency has been experiencing some heated criticism lately.
Mayor Gavin Newsom acknowledged those issues before a roomful of reporters and promised that Muni was not only getting his office's utmost attention but it would also receive the funding necessary for positive change.
"We recognize that we can't play in the margins any longer," Newsom said. "We recognize that there are a lot of long-term questions and concerns about the fiscal health of the agency. All of these things need to addressed in a comprehensive way so we can make substantive changes."
The mayor hopes that the Transit Effectiveness Project, due to be completed in December, will direct the city's efforts. The study could lead to a number of changes in the transportation network, from revised routes to less stops and Newsom said it is the key to getting Muni back on track.
City Controller Ed Harrington called the project the first "fact-based" Muni study to be undertaken in 25 years, but the fact that the study isn't due until December hasn't stopped officials from scrambling to fix recent problems.
MTA Director Nathaniel Ford likened the city's transit system to an orchestra, with each line having to act in concert for entire network to run smoothly. With this week's unveiling of the T-Third Street line, however, it was like throwing an unpracticed tuba player into the mix.
"We are seeing the challenges of disrupting or making changes to that orchestra," Ford said. "Adding the T-Line, more recently, extremely stretched an organization that was already seeing some challenges."
Ford referred to this week's gridlock as "growing pains" and said he was adding management personnel and other trouble-shooting staff members to upcoming shifts in the next month. He said riders should at least give the city a month to work out the kinks in the system.
As far as safety, which has come into the spotlight lately with last week's pedestrian fatality in the Tenderloin District, Newsom pledged to make it priority number one. He also said that because of recent agreements with union officials, the city will be looking closer into the safety backgrounds of train, cable car and bus operators.
"We need to redesign our system," Newsom said. "As our city is going through dramatic changes, so too must our public transportation system."
Copyright © 2007 by Bay City News, Inc. -- Republication, Rebroadcast or any other Reuse without the express written consent of Bay City News, Inc. is prohibited.
####